David Černý's Sculptures
When wandering in Prague and admiring historical gems, you might be struck by the quirky surprises offered by some provocative sculptures. Huge babies climbing the ŽižkovTV Tower, a Sigmund Freud lookalike dangling above a lane by his fingertips, and two cybermen writing out famous literary quotes with their urine - these are just some of the sculptures controversial artist David Černý has placed among Prague's streets.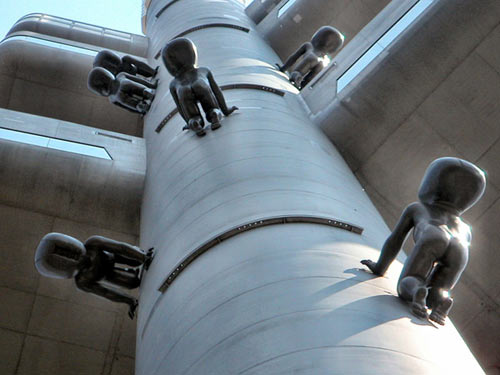 He gained notoriety in 1991 by painting a Soviet tank pink that served as a war memorial in central Prague. As the Monument to Soviet tank crews was still a national cultural monument at that time, his act of civil disobedience was considered "hooliganism" and he was briefly arrested. In 2009 he created more global media buzz with his provocative Entropa installation for the EU in Brussels. It was reinstalled at the new DOX Centre for Contemporary Art in mid-2009. Some EU member states reacted negatively to the depiction of their country. For instance, Bulgaria decided to summon the Czech Ambassador to Sofia in order to discuss the illustration of the Balkan country as a collection of squat toilets.