Accommodation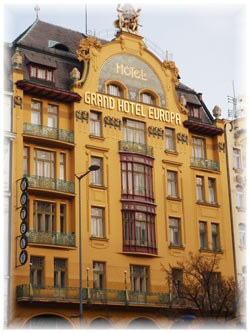 Accommodation in Prague is relatively expensive and good budget accommodation - such as small, family-owned hotels - is lacking. Don't be surprised to find some hotels dating back from the Communist era but all are with up-to-date facilities. And we wish to remind you it is always best to reserve your room before you arrive in order to avoid overpriced hotel rack rates.

Low budget: hostels, B&Bs (pensions) and campsites.
Moderate: 3 star hotels; 4 star hotels with special offers or last minute deals; serviced apartments.
Expensive: 5 star and 4 star city centre boutique hotels.
When booking accommodation in Prague, on 99% of occasions (though hostels and camps might be an exception) you will be charged per room, not per person. Some hotels and especially pensions do not recognise a difference between a twin and a double, and you get two twin beds pushed together for a double. Only mid and top hotels will give you clean linen every day, but you can always ask them if you wish to have your linen changed.

Tip: Remember if you find a special deal for a 3 star or 4 star hotel and it claims to be a luxury hotel, check TripAdvisor.com before booking if you don't want to spoil your romantic break, as hotels might be rated as a 3 star but in fact you will be sleeping backpacker-style!

Staying longer? If you are staying a bit longer a good idea is to book a conveniently located serviced apartment, which is usually cheaper than a 3 star hotel.

Tax: A 10 per cent tax may be added. Ask whether the room rate includes tax before you make a booking.