Costs in Prague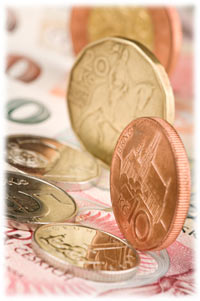 Compared to most EU countries you can still purchase much cheaper basic products here such as food or beer, but generally Prague is not the very cheap destination it once used to be. Prices of other goods are comparable with the rest of EU; however, in tourist areas prices tend to be remarkably high. If you read in some guidebook that living expenses in Prague represent exceptional value for your pound, the article has not been updated for several years. You can expect to pay around 4,000 CZK per night for a double room in an attractive central boutique hotel, and need to budget 300 CZK a head for lunch and 800 CZK a head for dinner if you plan to eat at a typical restaurant in Prague's city centre. A rock-bottom daily budget, if you are sleeping in a dormitory hostel room and eating at cheap restaurants or takeaways and are using public transport, is around 1,000 CZK per day. Credit cards are widely accepted.
Travel to Prague: low cost flights from London, as cheap as £15 plus taxes; from the US, around $600 to $800. Eurolines coach ticket from London costs around £50.
Theatre tickets range from 400 CZK up to 1,000 CZK but if there is an international performance prices are slightly higher.
Concert tickets are from 100 CZK to 500 CZK.
A city walking tour (3 hours) is from 350 CZK to 450 CZK.
A coach tour to Karlstejn Castle (5 hours) is 1,100 CZK.
Vltava river cruise (2 or 3 hours) from 500 CZK to 1,000 CZK.
Meals and drinks: pint of beer around 40 CZK (as much as 100 CZK in touristy areas such as around Old Town Square); three-course dinner per person with drink at average restaurant 400-600 CZK. McDonald or KFC set meal around 100 CZK. Lunch for one in a pub from 100 CZK.

Prague is one of the up and coming destinations in Europe – a city that is enjoyed by millions of tourists every year and a city that is going to only get more and more popular as people realize just how much it has to offer, in terms of entertainm...