Czech Food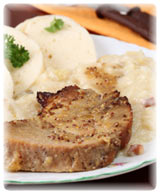 Typical Czech Dishes
Guláš - Beef or pork stew (goulash) in a dark paprika sauce with flour or potato dumpling.
Svíčková - Beef sirloin in a rich creamy gravy of celery root, carrots, onions and spices with flour dumplings, often garnished with lemon, cranberries and a dollop of whipped cream.
Vepřo knedlo zelo - Roast pork in sauce with flour or potato dumplings and sauerkraut.
Vepřový řízek / Kuřecí řízek - Fried pork or chicken wrapped in bread crumbs, usually served with cold potato salad.