Flights, Airport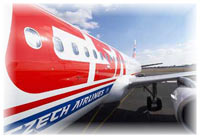 Prague, the capital of the Czech Republic, is less than 2 hours flying time from the UK. As you probably know, there are many low-cost airlines from many destinations in Europe that fly to Prague and they probably offer the best value. Compare and find your cheapest flights to Prague. Most low-cost flights to Prague are provided by EasyJet and WizzAir.
Fly to Prague cheap

Book your low-cost airline ticket early. Fly on a cheap travel day, usually Tuesday, Wednesday and Saturday followed by Monday and Thursday. Try to fly from bigger cities like London.
Fly from Bristol, London Stansted, London Gatwick, Amsterdam, Lyon, Paris, Milan Malpensa, to Prague with Easyjet.com
Fly from Manchester, Newcastle, Leeds Bradford and Edinburgh to Prague with Jet2.com
Fly from from Birmingham and East Midland with Bmibaby.com
Fly from London Luton, Bracelona, Edinhoven, Oslo, Venice, Rome, Bari, Naples, Milan Bergamo, Bourgas to Prague with Wizzair.com
Fly from Cologne-Bonn to Prague with Germanwings.com
Fly from Brussels to Prague with Brusselsairlines.com
Fly from 15 south european destionations including Burgas, Tel Aviv, Dubai and Larnaca to Prague with charter airline Smartwings.net
Fly from Oslo, Stockholm, Copenhagen to Prague with Norwegian.no
Fly from Rotterdam to Prague with Transavia.com
Fly from Rimini to Prague with Volawindjet.it
Fly from Dublin to Prague with Aerlingus.com
Fly from Rimini to Prague with Volawindjet.it
Fly from Milan, Pisa Tuscany to Prague with FlyAirOne.com

Czechs national airline is called Czech Airlines (CSA) - flies mainly to European destination including London and Paris. However there are still many real low cost airlines offering very competitive rates. With EasyJet you could make the same journey for less than half price if you book well in advance.