Parks, Garden, Green Spaces
The gardens range from basic, walled oases having fountains and fantastic statuary, to open spaces beyond the city core.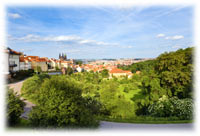 Some beautiful, central spots and green spaces in Prague are made for rest, relaxation and even sport. The gardens leading up to Petrin Hill, the largest of Prague's parks, are magical on a hot summer's day. Other beautiful parks worth visit are Stromovka, Letna a Vinohrady Park. Parks are frequented by Frisbee throwers, lovers, and roller skaters.