Theatres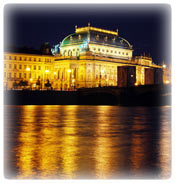 The Czech National Theatre is a great venue for ballet and opera. It is an enormous complex with several stages, and encompasses the national opera and ballet companies. Laterna Magika is part of the National Theatre although it is located in a separate, futuristic building. It is one of the major European troupes and at the forefront of multimedia theatre. This popular genre blends music, mime, ballet, surrealism and satire into a powerful mélange that transcends the language barrier. State Opera stages seminal opera, ballet and dance productions. Estates Theatre is Prague's oldest concert hall, where Mozart conducted the premiere of his opera, Don Giovanni, in 1787. The longest-running classical marionette shows take place at the National Marionette Theatre. To see what's on during your stay in the city - buy English-language PraguePost newspaper.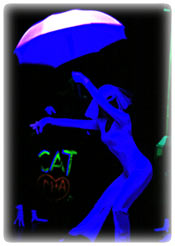 Glowing Acts

Black Light theatres are a type of surreal experience that can be found throughout Prague and have been around for the past forty years. It combines elements from cinema, pantomime, dance, drama and puppetry, which is all performed by actors in front of a black screen and illuminated by UV light. Black light theatre performances are held for both adults and children and they are all incredibly spectacular affairs. Two of the best theatres for this are the Black Light Theatre of Jiri Srnec and the Image Theatre.
Tip: First week of June visit Theatre Festival Prague. Performances are held around the city where you can see drama, music, and comedy and dance. This festival lasts about one week.
Theatre Etiquette: Whistling is not considered a positive form of applause: it's equivalent to booing. Dressing up for the theatre is customary, but is no longer a strict rule. You should however, refrain from wearing trainers. When attending a classical concert or opera, on the other hand, you must be in formal dress.

Close to the Náměstí Míru Square, you cannot miss the majestic Art Nouveau building of the Vinohrady Theatre, one of Prague's oldest and most reputable theatres. The necessity to establish another theatre, so that Prague cultural life could flourish, had been discussed even before the National Theatre was opened to the public.

There are more than 40 theatres in Prague. Apart from big theatres with a classical repertoire, there are smallish theatres - these came into existence mostly in the sixties of the last century to criticize the totalitarian regime, and they have been playing the role of critics and innovators ever since. There are also several new experimental theatres in Prague, such as the Black Theatre or the Pantomime Theatre.

For a typically Czech theatrical experience, you can choose from three distinctive performance genres, all of which are great for visitors as they are language-free and held in Prague's city centre. Laterna Magika situated next to the National Theatre is a mix of film, visual effects, sound and ballet. Always evolving, the themes are fresh and exciting, and performances are well worth the price.