Tourist Information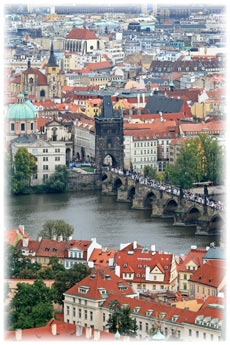 The River Vltava splits this wonderful city into two halves while Charles Bridge links them together. Prague Castle and the Little Quarter are situated on one side, and the Old and New Towns and the Jewish Quarter on the other. In Prague it is very easy to get around on foot or by using public transport. Walking is a very enjoyable way to see Prague, but with its steep hills, cobbled streets and tramlines you must wear comfortable shoes. But to feel and enjoy the real Prague be prepared to abandon your sightseeing itinerary ... for a moment put away your map and wander off the beaten track; explore narrow side streets and courtyards, where Prague is often at its most charming and beautiful. There's something new and interesting around every corner.
Best thing to do!
Charles Bridge - most visited romantic landmark in Prague.
Prague Castle - visit the world's biggest castle as well as the marvellous St Vitus Cathedral. Do not forget the picturesque houses at Golden Lane.
Prague pubs - sample the world's best beer in Prague's historical district of Lesser Town.
The city, once home to Dvorak and Franz Kafka, boasts hundreds of concert halls, museums, galleries, movie theatres and music clubs, including the gorgeous National Theatre, Estates Theatre and State Opera. Prague's compact centre makes discovering this magical city's charms a breeze year-round, even through cold winters or the often rainy days of summer.

Tip: Prague Information Service Tel: 12 444 (English and German, from overseas dial +420-12-4444). You can get up-to-date information about attractions, cultural events, public transport, shopping, phone numbers etc. Mon-Fri, 09.00 until 18.00. Local call rates apply.