Transport, Getting There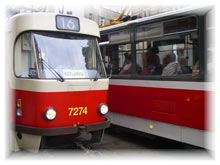 This category includes all information about using public transport in Prague, like buses, trains and taxis, as well as information on how to get to Prague from the UK by car, train, coach or plane.
Getting there by air. Most people travel to the city by air on one of the many daily low cost flights from Europe's major cities.
By rail. Prices for rail travel are generally far more expensive than air travel and journeys may take much longer than by plane or car. Purchasing a rail pass or a ticket in advance can help minimise costs.
Getting around. Prague is a simple city to get around, especially in the centre, which is relatively small and compact. The best way is to take trams or just walk.