Public Transport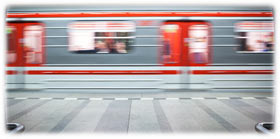 Public transport in Prague is well organized, efficient and very easy to use. The Prague underground is comprised of 3 lines and 41 stops and is a very efficient means of transport. The operating hours are from 05.00 until midnight. The tram is also a convenient mode of transport for sightseeing and it operates until after midnight. The bus system operates widely in areas that are not covered by the tram and in suburban areas, where some lines run till after midnight.
If don't want to spend all your time getting to places or spend all your money on expensive taxi fares there is an option: buy a 24-hour or 72-hour transport pass from the Prague Transport Authority offices at underground stations or in the arrivals hall at the airport. Or try SMS ticket: You don't need to buy classic paper tickets while using public transport in Prague. All you have to do is text from your mobile. Send an SMS to 90206 with subject DPT. Wait a few seconds - sometimes it can take up to one minute - and your ticket will arrive (subject to your mobile credit balance). When you meet a controller, you just show him your display with your ticket number. Price is the same as ordinary paper tickets, 32 CZK, and is valid for 90 minutes.
Announcement: Prague Public Transport Authority has announced the closing of the Národní třída metro station (on line B) for two years (until mid-2014).
On foot: A very enjoyable way to see Prague, but with steep hills, cobbled streets and tramlines, you must wear comfortable shoes. Be careful when crossing as some drivers tend to ignore crossings without lights. Also trams travel quite fast and may come upon you with little warning.   
Beware: Pickpockets operate on the public transport (especially trams 22 and 23) and in crowded tourist areas like the castle or the Astronomical Clock. 
Did you know? When using publick transport in Prague you are expected to give up your seat for the elderly and disabled.