Weddings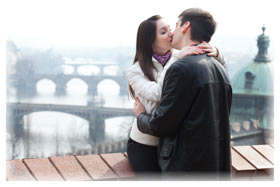 Prague is a truly charming place where a romantic atmosphere awaits you around every corner. And for that reason the city not only attracts regular tourists but some choose this attractive destination for their very special occasion – their wedding day. You can choose from countless fairytale castles in the Czech Republic, Prague's amazing Gothic or Baroque churches, and other venues. A more romantic setting can hardly be imagined! Another choice would be a ceremony in the medieval town hall of one of the historic royal towns of Bohemia.
In view of the quantity of effort and time required to coordinate a wedding, lots of people decline the DIY route and hire a professional wedding planner to assist with all things from their paper-work (instructions about what you will require, help with translating at different local offices etc) to their wedding cake's flavour. The standard, no-Eris deal (i.e. a ceremony performed in your chosen language at a registry office with a basic champagne reception afterwards) costs about forty five thousand Czech crowns. For people desiring a larger ceremony, a wedding planner will hire a venue for your wedding, order invites, discuss with you on décor and flowers, co-ordinate transportation for the groom and bride and deal with all of the reception requirements (wedding cake, music, food, photographs etc.). A Wedding Agency ought to be hired at least 6 months beforehand. Alternatively, it is completely possible to handle the admin yourself although, without any knowledge about Czech, this can be an uphill struggle.
Romantic areas for a civil ceremony are: the hall in the Old Town, underneath the Astronomical Clock in the town's centre, the mansion Letenský zámeček and the multiple gardens and castles across the city. Many wedding parties even move out of Prague; Karlštejn Castle and Křivoklát is famous as a venue for weddings for example. Popular churches for ex-pat weddings are: Saint Nicholas Church and the Church of Saint Jiljí.
Frequented areas for weddings, like the Old Town Hall, might have to be hired as much as a year prior to your wedding if you are intending on a wedding in the early summer. If you are superstitious, Czechs believe that marriages in May will be finished within a year so many people don't get married in this month. You may discover, therefore, that a popular venue is available over this period.