Prague has many fine restaurants, but one of the preferred dining venues is in the Four Seasons—the Allegro Restaurant, which offers the most unequivocally lauded cuisine.
At Allegro, diners delight in views of Prague Castle and the river and can take advantage of plenty of seating on the outside terrace in season. Comfortable chairs next to a large wine display surround the north wall of the restaurant. The atmosphere at breakfast and lunch is sophisticated and casual with more elegant nuance sat dinner.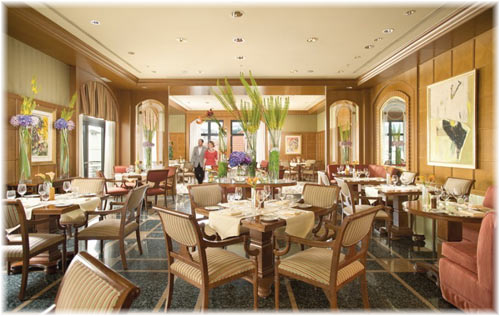 Allegro echoes the flavours of Italy in uncomplicated refined fare superbly prepared and served with elegance. Breakfast is ordering from an ala carte menu, but lunch and dinner choices feature classic Continental cuisine, Mediterranean, Italian, and Bohemian specialities–concepts of Chef Andrea Accordi.
The Four Seasons is celebrating its 10th anniversary in Prague. From January 19 to March 31, 2011, you can enjoy a taste of Italy with a special lunch created by Chef Accordi. The menu offers two antipasti, two second Patti, two prim Patti, and two dolce. For the opportunity to win a free two-night stay at the Four Seasons Hotel Milano and a courtesy lunch for two in the popular La Veranda restaurant, leave your business card for the Italian City Break raffle.
Allegro has the honour of being the name the best restaurant in the Czech Republic for 2006, 2007, 2008 and 2009 by Zagat Survey, and is also the recipient of the only Michelin star awarded in the Czech Republic.
The restaurant Allegro is the location on the ground floor to the right of the main entrance of the Four Seasons. The restaurant seats 70 inside and 40 outside (when weather permits). Dress for lunch is casual, and for dinner, smart casual. Reservations are recommending.
Address: Allegro (CottoCrudo), Veleslavínova 2a, Prague