Since 1562, this architectonic jewel with a rococo facade is the archbishop's seat and primate of Bohemia. The Archbishop's Palace is on the site of eight former burgher homes. Florian Grispek of Griesbach first had it built after 1538. He then ceded it to the monarchy, which then passed it on to Archbishop Antonin Brus of Mohelnice.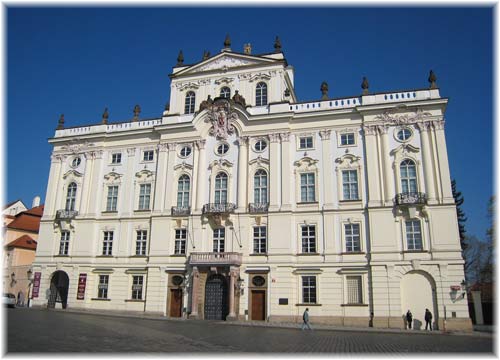 Hans Tirol reconstructed the palace for him according to plans drawn up by Bonifaz Wolmut. In 1675 – 1679, in the hands of Archbishop Jan Bedrich of Wallenstein, the palace underwent an extensive Baroque restoration, led by Francesco Lurago according to designs by Jean Batiste Mathey. In 1764 Archbishop Petr Prichovsky had Jan Josef Wirch renovate the building in the late Baroque style.
When the bubonic plague raged through Prague from 1713 – 1714, a mass prayer for its dispersion took place in Hradcany Square. In 1724 – 1736, a Marian Plague Column was erected in the spot where the altar stood. The author of its architectonic composition is unknown. Still, Johann Ulrich Mannes did the stonework, and Frantisek Maxmilian Brokoff created the statues in 1724 – 1731, with Franz Ignaz Weiss contributing his sculptures in 1731 – 1736.
In Czech: Arcibiskupský palác