If you wish to experience a wonderful Italian meal while in Prague, visit Aromi.  With seating for over 80 guests, a particular family-run restaurant provides a warm and elegant setting in the traditional Italian style. Shelves filled with wine bottles and cookbooks and a view of the open kitchen give you the ambience of a homey Italian kitchen. The heart of Vinohrady quarter, one of Prague's most desirable residential areas, is filled with restaurants and antique shops. Visitors to the Czech Republic can enjoy a traditional Italian meal and rest after a day of sightseeing and shopping.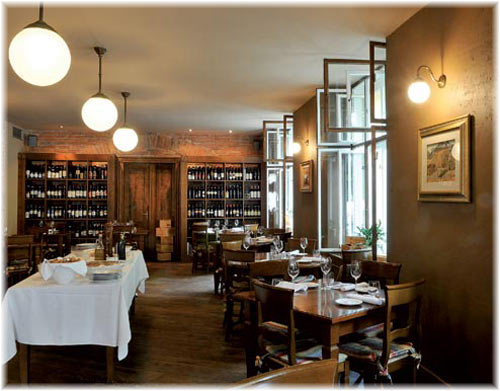 Chefs at Aromi make their own pasta; the excellent ravioli is an experience in itself. Imagine your server setting a plate of bright sunny yellow round ravioli in front of you. Pick up a fork and bite through the firm pasta into a gooey filling of eggplant and mozzarella cheese mixed with cream to a soft, tasty consistency, then topped with fresh basil, butter and slices of peeled tomato. This dish is high-priced at 345 CZK for a not overly large serving, but it's worth it to some individuals.
Owner and head chef Riccardo Lucquecomes from the Marche area of Italy. Many of the ingredients Mr Lucque uses in his kitchen are imported from that region. The nearby Aromi La Bottega, a spinoff of Aromi, shares these ingredients, including salamis and prosciuttos, olive oil, wine and cheese.
Aromi's fresh fish is exceptional, and one reason why Aromi has gained a lot of respect on the Prague dining circuit. Servers bring diners huge trays of turbot, live lobsters, sea bass, and other choices from which they can make their selection. The staff recommends methods of preparation or will follow your instructions. The waiter cleans and divides the prepared fish at the table and arranges the fish on the diners' plates. Such tableside service is uncommon but adds to the laidback ambience.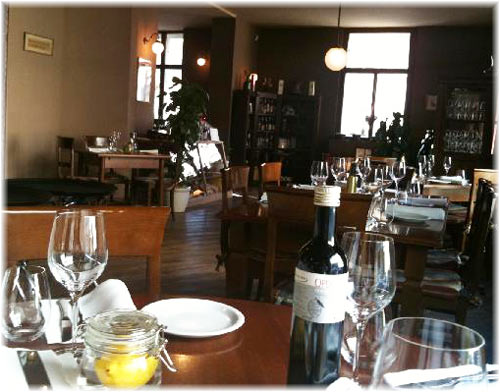 The service at Aromi is very good if a little brusque. You will appreciate that Mr Lucque makes rounds to each table, making sure that everything is satisfactory. That personal touch keeps Aromi full. Aromi is popular, and many people repeatedly return; the restaurant is crowded nearly every night.
Address: Aromi, Mánesova 78, Vinohrady, Prague