All international trains arrive either at Praha Hlavní Nádraží main train station (including the overnight train from London, via Brussels and Cologne) or Praha Holešovice. Both are located on Line C of the metro and are served by several tram lines. The main train station is located only a few minutes from Prague's city centre. At both stations, you can find money exchange facilities (do not exchange money there unless you wish to pay 10% commission), ATMs, a 24-hour left-luggage office and a tourist information desk. You are also able to book accommodation through some agencies there. The train station had a shameful reputation: many homeless people and people with a 'criminal history' did hang around there. Although Prague's train stations are not extra dangerous, be careful, as pickpockets operate here. Remember, in summer, the international trains tend to be full, and you should book your seat at least a few weeks ahead.
Train Infoline: 24-hour information on train connections to Prague. Tel: (+420) 221 111 122.
Tip: Pre-book a reputable taxi from the train station to your hotel and avoid an unpleasant experience as many dishonest cabbies are located around train stations.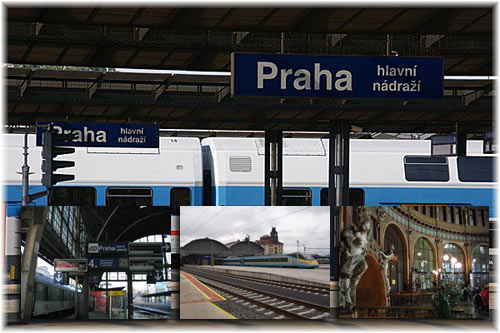 Major railway stations in Prague
Main (Wilson) railway station Prague 2, Wilsonova str. (Metro station Hlavní nádraží, line C) just shor walk from Wenceslas Sq.
Prague – Holešovice Prague 7, Partyzánská (Metro station Nádraží Holešovice, line C)
Masaryk railway station Prague 1, Hybernské (Metro station Nam. Republiky, line B)
Smíchov railway station Prague 5, Nádražní (Metro station Smíchovské nádraží, line B)
If you are arriving by bus 
you're most likely to end your journey at the main bus terminal, Praha Florenc. This bus terminal is about 15 minutes walk from the city centre, situated on the eastern edge of the New Town; it is easily accessible by tube (yellow Line B and red Line C) and trams. The bus terminal also has a left luggage facility, some exchange offices and an information desk. The major railway stations may be reached from here in about 5 minutes on foot.
Bus Infoline: 24-hour information on bus connections to Prague. Tel: 900 144 444 (14 CZK/min).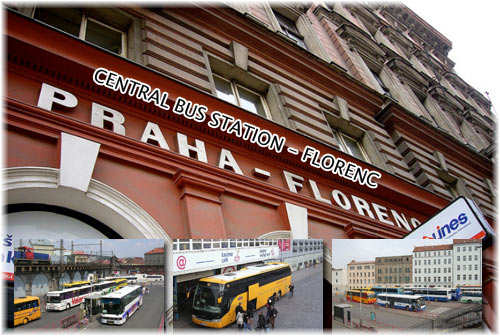 Coaches to/from the UK
Generally, taking the bus is the cheapest way to travel across Europe. Prague has regular connections from/to major European cities several times a week.
Kingscourt Express: (Coach services between London and Prague.)
Student Agency: www.studentagency.cz
Eurolines offering comfortable and reliable coach services between the UK (London) and the Czech Republic, also stopping in Nurnberg and Heidelberg. Eurolines coaches depart from London Victoria. Coach services from Prague to any European city. www.elines.cz
Bohemia lines: www.bohemianlines.cz