The tradition of formal balls lives on in the 21st-century Czech Republic. And in contrast to many other EU countries, the balls held here are not restricted to the highest social levels but attract a broad spectrum of the public. Ladies in sweeping gowns and gentlemen in their best suits dancing till dawn can be your companions in the romantic ball of your dreams.
The ball season traditionally commences in February, when the church calendar indicates the end of Lent. The date is not quite as strictly adhered to, meaning that balls in the Czech Republic can start as early as mid-December.
Balls are popular both in towns and in villages, where various civic associations organise them. This makes it possible to attend balls organised by hunting associations, fire departments, amateur theatre groups, motorists, athletes, local football teams, gardeners or fencers. Each organisation may adjust the specific events to its own focus, though a requirement in all events is formal dress. 
The Tombola
The tombola is one of the climactic moments of the evening. Before the ball itself, the organisers ask sponsors for gifts, and during the evening, guests may buy tickets to be drawn from a hat just before midnight. Prizes can be quite unexpected, depending on the organisers – possibly a sack of wheat or a freshly slaughtered wild boar.
Exhibition Dances
Another highlight of the evening is when in between sets of dances, the professional or semi-professional dancers perform displays of ballroom dancing.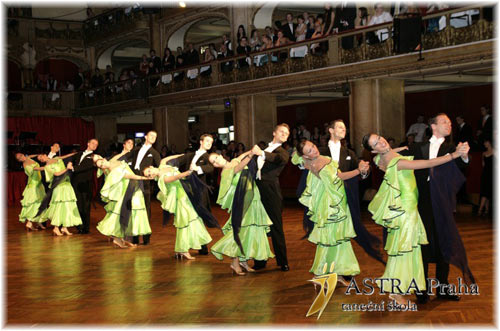 Ballroom Dancing Courses
Every autumn, ballroom dancing courses are held for secondary-school pupils, where young people can learn the basics of European and Latin American dancing as well as the essentials of proper behaviour. These courses are a major event of school life and the basis of the Czech ballroom-dancing culture. The courses are always conducted informal dress, and the final evenings, when the pupils' parents are invited, are milestones of the path to maturity.