St. George's Basilica is just next to the Royal Palace. It is Prague's oldest and best-preserved Romanesque structure, dating from the 10th century. Founded by Prince Vratislav 1 (915-921), it was extended in 973 when a new Convent of Church of St. George was built in its vicinity. After a big fire in 1142, the basilica was reconstructed. The facade is in the Baroque style and dates back to the 17th century. There is a tomb of the first Bohemian Christian woman martyr Saint Ludmila, a widow of Prince Vratislav I, who reigned in the 9th century. St. Ludmila was strangled while kneeling in prayer. Other royalties of the Přemyslid dynasty are buried there as well.
Today St. George's Basilica serves as a concert hall for evening classical concerts, and St. George's Convent houses the National Gallery's collection of Czech Mannerist and Baroque art.
Location: Prague Castle, Hradcany
Open: daily, Apr.–Oct. 9–18, Nov.–Mar. 9–16 closed 24/12
Getting there: by Metro A station Malostranská, Tram 22 – stop Pražský hrad
Admission: Adult 350 CZK (Prague Castle Tour A), admission free with Prague Card
In Czech: Bazilika svatého Jiří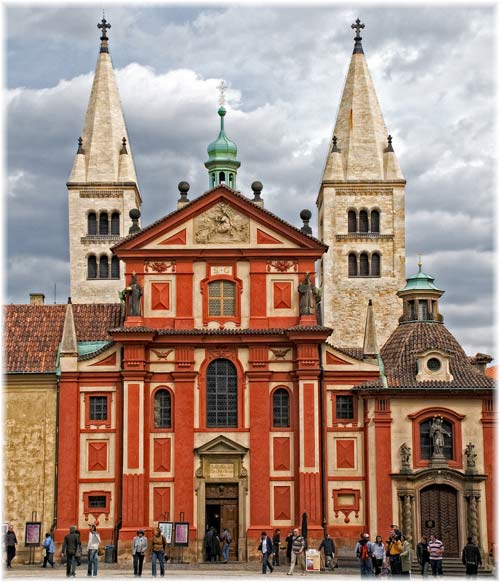 St. George's Convent
Exhibition of 19th Century Art in Bohemia
The exhibition in the convent begins with a display of Mannerist works by artists from the court of the Emperor Rudolph II: Bartholomeus Spranger, Hans von Aschen, Benedikt Wurzelbauer and Adrian de Vries. The National Gallery's outstanding collection of Baroque paintings and sculptures is on the first floor. Many Bohemian and Silesian artists exhibited here and played a key role in beautifying Prague's churches and monasteries in the 17th and 18th centuries. They include Škréta, impressively represented by altarpieces, portraits and easel paintings, Peter Brandl, Václav Reiner and the sculptor Matthias Braun. Look out for some outstanding portraits by Jan Kupecký, notably Self-portrait with Portrait of his Wife and Ignaz Platzer, a master of the rococo whose commissions included the decoration of the Church of St. Nicholas in Lesser Quarter.
Open: Tues-Sun 10am-6pm
Location: Prague Castle, Jiřské nám. 33
Open: daily, Apr.–Oct. 9–18, Nov.–Mar. 9–16 closed 24/12
Getting there: by Metro A station Malostranská, Tram 22 – stop Pražský hrad
Admission: Adult 150 CZK, admission free with Prague Card
In Czech: Klášter svatého Jiří