CLOSED DOWN
Batalion is a club or rather a pub located downtown, near Wenceslas Square. It is an old club which was a rock club in the nineties and in the early new millennium, but there's not too much live music production at the moment. One or two bands per month, but this place still rocks, because the main kind of music played in the upper pub is hard rock – yes, the owner knows why to call it hard rock café. This place is divided into two floors, the pub and club, as is usual in Prague because of problems with noise disturbing people on the street in front of the club and disturbing sleeping old people in the building, where the club is.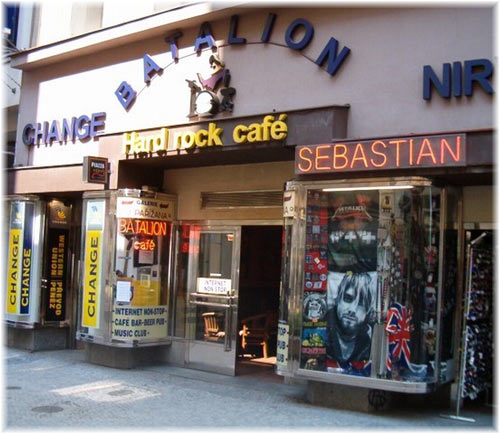 It is open non-stop, so it is the optimal place for a tired rocker to rest with a beer when the sun is rising and night is fading away, leaving you with a horrible headache. Next to the club is the shop Krakatau with hard rock T-shirts and ethnic instruments. There is an internet café in the back parts of Batalion and there is some kind of gallery – or you could call it decorations because it is a gallery of one man only – Mr Ge Polo who makes serious art portraits of rock stars.
It's a pity that live music production at the zero floor now bends before disco DJs, but in history, there were unforgettable concerts of world-famous bands – like Kataklysm – because Batalion isn't too large and the stage is in the centre of the underground room with the audience standing in a circle around the band.
The prices of drinks are not too high when you realise that it is absolutely in the centre of the city.
Address: Batalion Music Pub, 28.rijna street 3, Prague 1
Opening time: Non-stop