A BBC programme about prostitution in European capital cities connected with popular weekend stag parties of Britons in the Continent reported the Czech Republic to be a transit centre for the selling of women. The documentary also describes a meeting, filmed with a hidden camera, with a Czech-speaking man who offers two women for sale.
The programme reporter pretended to be a London brothel owner, and at a highway petrol station near Rudná, he met a man who offered him, two women, at 3500 Euros per month. During the evening meeting, filmed with the hidden camera, the man claims that at present, each of the women earns 90,000 CZK a month for him.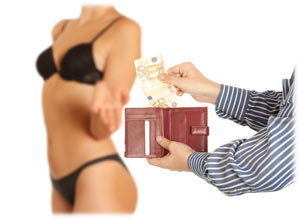 The document discusses the selling of women because many European cities have become a popular destination for young Britons and their "stag parties" either just for fun or as a saying goodbye before marriage. Prague has some 70 brothels and many striptease bars, and it is not difficult to find some of the half-million Britons who come to Prague every year to party, says the BBC, pointing out liberal Czech legislation in this respect.
According to the BBC documentary, this "British stag parties industry" contributes to the prostitution and selling of women here. The documentary notes that Britons spend 500 million pounds (14.7 billion CZK) a year during their sprees. Their major destination is Amsterdam, but the programme also focused on prostitution in Krakow and Riga related to this phenomenon.
"British stag parties as farewell-to-freedom before marriage have changed a lot during the last ten years. Gone are the times when you went for a beer in a pub with your dad or friends. Instead, now it is three or four nights in a foreign city far from nosy eyes," concludes the documentary. "Often, it is more than just a striptease club. For many Britons having a prostitute is an inseparable part of a dream stag party."