The Bellevue Restaurant, translated in English to "beautiful view", is located in Old Town, Prague. The Bellevue is a laid back but sophisticated parlour which serves delicious, tempting cuisine. Fancied by families, friends, and businesses alike, Bellevue is considered to be one of the top places to eat in Prague. When viewed from the street, the Bellevue appears as a 19th-century chateau, quietly nestled among the other amazing sites of Old Town.
Customers and critics agree the Bellevue is elegant dining dressed in a lovely and peaceful environment. Charles Bridge and Prague Castle are just across the Vltava River. When dining, one can enjoy these lovely and unique sites through the large panoramic windows of the interior or outside on the terrace. The interior of the restaurant is beautiful and refined. The decor is a combination of traditional and contemporary features in welcoming surroundings that seem formal yet inviting. The interior colour scheme is a mix of beige and purple, which somehow appears modern and classic at the same time. The crystal chandeliers are an exquisite touch that makes the dining experience glamorous and chic.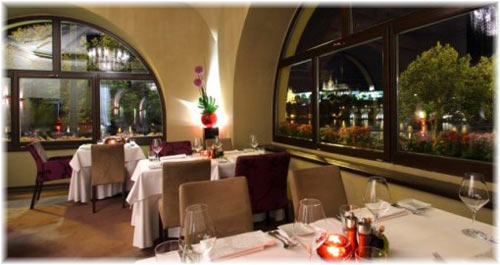 The tempting menu consists of a wide variety of meat, fish, and mouth-watering desserts. If you love wine, request the "Tasting" menu, which includes a wide assortment of wines to choose from, and then served with every course. Many of the best wines and champagnes in the Czech Republic are served at the Bellevue, and make a perfect addition to already sumptuous meal. The elegance and premier service you receive at Bellevue, which is one of Prague's best five-star restaurants, is second-to-none and a very tough act to follow, indeed. It is tough to imagine that someone would be disappointed with their experience at the Bellevue – the food, decor, service, or quiet sophistication.
Address: The Bellevue Restaurant in Old Town, Prague