Prague Is the Third Greatest Centre of Pickpockets in the World
According to a survey made by one of the world's largest travel servers, TripAdvisor.com, only Barcelona and Rome have more pickpockets than Prague among its users in 2009. Since then, the number of victims has dropped slightly, yet the placing has not moved from the top of the list.
Gone are the times when pickpockets were poor beggars in rags, avoided by everyone carefully. Now they are members of organised gangs. Last year in Prague, they stole 39 million CZK in total! We speak about pickpockets who had almost seven-and-a-half thousand victims in 2010. The techniques they use are getting ever smarter, and they use women more often. They pretend to offer sex to tourists, only to pick their pockets.
A moment of inattention and your wallet, with your documents, is gone! Every year almost ten thousand people become victims of pickpockets in Prague. But who are the people who steal your things?
Who Is in the Greatest Danger?
Most thefts take place in tourist centres. "It is, for example, the Prague Castle during changing of the guards, or the area in front of the Astronomical Clock when the full hour chimes. In short, it is every time, and everywhere the attention of people is diverted. But the police use this information too. "This is the time when an experienced detective can safely discover a pickpocket. Even normal people can notice one," he points out. If 99 people watch the changing of the guards while one man watches the other tourists instead, he is probably a pickpocket. But they are hard to catch. Pickpockets do not stick to any territories; they move about the whole of Prague, and they often phone each other about tips! "We even discovered a pickpocket gang flying from Rumania to Prague. They steal here, and then they travel to other European cities." Most of the victims are young Britons who come to Prague to drink. When they wander through the streets drunk in the morning, they are easy victims of the Bulgarian and Rumanian women.
"They offer sexual services while they pick your pockets," says a policewoman. The most dangerous are the Arabs. At any sign of resistance, they use violence and take knives out of their pockets!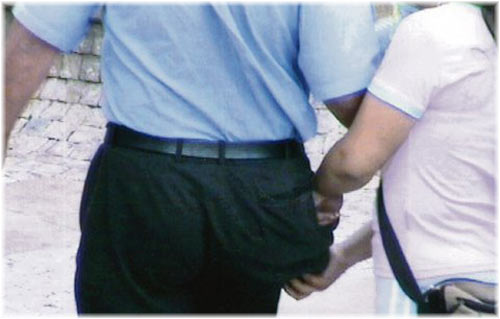 Stealing in the Capital
– the most frequent victims are Britons, Germans, Italians and Spaniards
– most thieves are Rumanians, Arabs, Czechs, Slovaks, Bulgarians, Russians, Vietnamese
– last year, the policemen caught five child pickpockets – recidivists
– every day, some 25 thefts are reported in Prague; last year, the pickpockets caused damage worth CZK 54,909
– during the film festival in Carlsbad, the Prague thieves moved there
– there is no pickpocket season – they steal all the year the same way