Restaurant & Jazz Club, Old Town, Prague
Bily Konicek Restaurant & Jazz Club is situated in Old Town Square, Prague. Prague is the largest city in the Czech Republic, and also the capital.  Bily Konicek is nestled in a medieval cellar, in one of the oldest buildings in the Square.
The décor, however, is ironically modern, with dark woods accented by glass. There are several levels, which contain a vast arrangement of antique alcoves and large, open rooms. Groups of all ages are welcome, and the venue is relatively informal, yet all types of dress seem at home in this eclectic environment. Whether you are seeking dinner for a large family, or a romantic night out for a couple, the Bily Konicek Restaurant and Jazz Club is likely to suit your needs.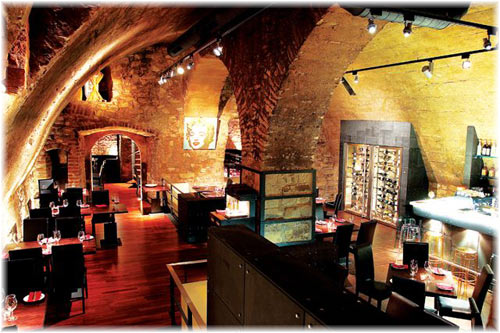 The menu consists of Czech cuisine and international foods. All the ingredients that go into this fine cuisine are high-quality, including steak, fish, salads, and pasta. Wines are available by the bottle or glass, and include samples from Germany, Italy, Spain, and France, among others. Dinner is served very late.
Along with your meal, you are also provided entertainment in the form a free jazz concert from 9 pm  to midnight each night of the week. The music is contemporary but quiet to enhance the mood and allow for conversation. Depending on the night, each band includes 3-5 proficient jazz musicians, which add much to the slightly trendy, yet refined atmosphere. Currently, the resident entertainer is Alice Springs. There are many others who perform regularly such as Andrew Lee Davison, Renee Trossman, and Jonathan Gaudet.
In addition to the restaurant, there is a club and separate entrance in the rear of the the venue which can be booked in advance for private parties. The live DJ plays a variety of popular music, consisting of tunes from the 1980's to today.