For those in search for some adrenalin, here is the first bobsleigh track in Prague. It not only offers 1km of high speed track with eight loops and other attractions, but the ride is absolutely safe and can be enjoyed by fun-seekers of any age, from the youngest to let's say "older", whether you're tough or sensitive. Children older than eight can ride alone, while smaller kids can ride accompanied by one parent (each trolley has two seats). The speed of the trolley can be adjusted using the brake lever, or it will self-regulate if the speed gets too high.
Rides will be interesting not only by day, but also at sunset, when you can enjoy a breathtaking view of the illuminated city.
In the area you will also find restaurants offering refreshments, complete dinner menus and nice selections of wines.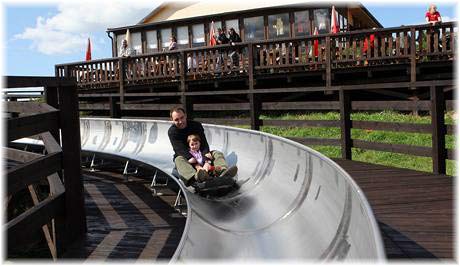 Address: Prosecká 906/34b, Prague 9; website
Getting there: Metro to Palmovka station (B line) and bus No. 187 or 233 to Kelerka stop
Opening hours: 10.00-22.00 summer season and 12.00-20.00 winter season