The Buddha-Bar Restaurant is located in the heart of Old Town, Prague. In addition to Prague, Czech Republic, there are Buddha Bar Restaurants situated in Sao Paolo, Kyiv, Beirut, Jakarta, Dubai, London, Paris, and New York City.
At first impression, the Buddha-Bar is exotic, creative, and very ornate, with spacious high ceilings that span two levels. Chandeliers hang from above, suspended like opulent centrepieces amidst the surroundings. And, of course, an enormous Buddha statue is there to supervise. The staff is professional and sharply attired. On the upper level, there is a mezzanine bar lounge that overlooks the dining room. This area is often frequented by those looking for cocktails before or after dinner. Drinks are made perfectly to stroke the pallet. The Buddha-Bar plays soothing, silky, ambient world music, adding to the romantic and refined atmosphere. It is a perfect location for an intimate dinner for couples or large groups of friends getting ready for a night on the town.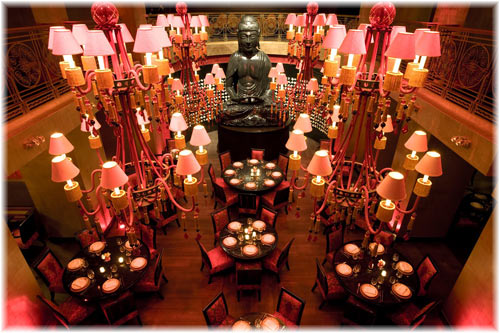 The menu is exotic and eclectic, consisting of various offerings from Asia, including Japan, China, and Thailand.  You can take your pick of delightful Asian dishes such as tiger shrimp, Peking duck, octopus, spring rolls, sushi and red curries. You can finish your adventure with a dessert such as chocolate cake or fondue and fruit cheesecake. The wine list is extensive and includes many Czech and French wines of many price ranges.
In addition to the restaurant is a luxurious hotel with high-end rooms and suites for the opulent-inclined. The interior includes a modern mix of Asian designs fused with French colonial influences. And for those who are pining for additional pampering, the hotel also includes a spa, jacuzzi, and steam room. Packages are available for romantic excursions, which, among other features, includes a limo ride to and from the airport.
Address: Buddha-Bar Restaurant, Old Town, Prague