The Ginger&Fred Restaurant in New Town, Prague, is located on the top-most level of the Dancing House building. This structure is famous for its curvy, dramatic appearance, glass windows, and unique architecture. This prime location overlooks some of the most awe-inspiring attractions that Prague offers, including the Vltava River, Charles Bridge, and Prague Castle. Day or evening, large windows on three sides of the restaurant offer a 360 degree, panoramic view that is lovely and intoxicating. In the summer months, you can also dine outside on the rooftop terrace. The dining room itself is quite a sight to behold – spacious and cream-coloured, with modern windows, track-lighting, and magnificent dark wood floors. Like the room, the crystal, tear-drop style chandelier is round and serves as a centrepiece to highlight the entire room.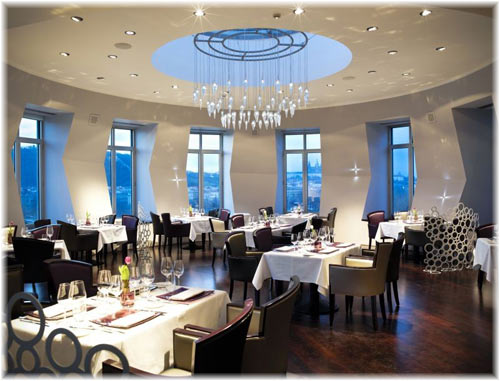 The food is prepared by an expert French chef, who has devised a delicious menu infused with premier French cuisine. Included are fresh fish and seafood, such as dole and scallops. Or you can treat yourself to over-roasted grouse, wild duck, and beef fillets. In addition, the Ginger&Fred offers fabulous desserts (such as black truffles) and cheeses for after-dinner treats. The wine list consists of an extensive range of high-quality French, European, and Czech wines and champagnes.
Overall, the Ginger&Fred is elegant, romantic, and is suitable for a wide variety of customers, including couples, groups of friends, and business associates. The ground floor offers a bar where you can socialize before or after dinner and stocks a vast assortment of cocktails, including one specially designed for the Ginger&Fred. 
If you wish to check out the marvels of the Ginger&Fred, reservations are essential. Appropriate dress attire is considered to be casual and smart. The restaurant is open during lunch and dinner hours is air-conditioned and is also handicap accessible.
Address: Ginger&Fred Restaurant, Dancing House