Cesky Krumlov is in the charming South Bohemian countryside nestles in a bend of the Vltava River. Located 180 km from Prague, a few towns have still retained their own medieval nature.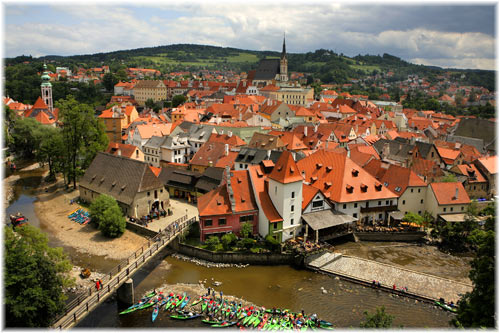 The town is called the pearl of Bohemia. Its historic centre was listed in the 1992 UNESCO World Cultural and Natural Heritage List. The town is dominated by two national cultural landmarks – the castle and the Gothic church of St.Vitus. The castle is a partly medieval fortress, partly château, magnificently set on a clifftop overlooking the town. By the way, it is the second-largest one in the Czech Lands (after the Prague Castle). The mighty renaissance castle- once the seat of powerful Lords of the Rozmberks and the Schwarzenberg's – houses a rich collection of period furniture, Flemish tapestries, and a historical weapons picture gallery. You must see the interior of this splendid castle and the old town with its romantic lanes and reconstructed medieval houses. Castle was built around a 13th-century castle with Gothic, Renaissance and Baroque elements. Guided tours include a visit to the Hall of Masks, a ballroom painted in 1748 (figures of guests attending a masquerade). The houses of the Latrán, the area around the castle, were originally occupied by servants and court scribes. Buildings here include a 14th-century Minorite Monastery and the Eggenberg Brewery, which still makes its deliveries by horse and cart. Below the castle steps in the medieval former hospice and Church of St Jošt, converted into private apartments.
Prominent on the main square is the Town Hall, with attractive arcades and vaulting. Vilém of Rožmberk is buried in the Gothic Church of St Vitus, which dates from 1439. The Latin School, now a music school and the former Jesuit College, now the Hotel Růže, are also worth a look. It is an outstanding example of a small central European medieval town. Town architectural heritage has remained intact thanks to its peaceful evolution over more than five centuries. In 1993, the Egon Schiele International Cultural Centre was opened here.
Where to Eat
Český Krumlov is full of medieval inns known for their dark wooden furniture and selection of spit-fired meats. For fresh trout by the river and cups of cinnamon or almond mead (hot or cold) served in a rustic, intimate atmosphere, try Krčma U Dvou Marií. Visit the 13th-century candlelit catacombs of the Old Inn Hotel for traditional Czech cuisine with a side of Gothic charm. Cikánská Jizba (Gypsy Tavern), your meal will likely be accompanied by live folk music. Cafe Laibon is a vegetarian oasis in a sea of carnivorous competitors. Delicious soups, a staggering list of teas, and innovative entrees make it a winning choice for lunch.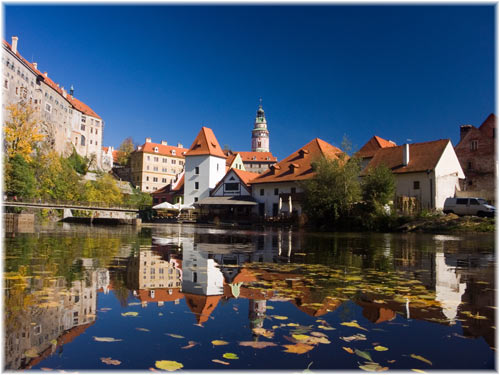 Music Festivals Held in Český Krumlov
Cesky Krumlov offers a series of music festivals throughout the year: The Chamber Music Festival, The Early Music Festival, The Jazz Festival and the large International Music Festival. Lovers of opera and ballet can visit performances in the open-air revolving theatre, in the Castle gardens.
Other Places of Interest
– The Cesky Krumlov Regional Museum has a wonderful, detailed model of old Cesky Krumlov.
– Another place worth a visit is The Wax Museum of Cesky Krumlov. 
– Marionette Museum. This excellent branch of Prague's National Marionette Theatre is situated in the former Church of St Jošt. It shows a large range of Czech marionettes and puppets through their history, including theatres and stage sets. Location: Latrán 6; Adult admission 80 CZK; Open 9am-6pm Apr- Aug, 10am-4pm Sep & Oct.
Tours
The town is the main attraction when visiting Český Krumlov, so a guided walking tour is the best way to see it in all its glory. There are two different walking tours, both of which sell their tickets through the TI and both of which are in English. They meet on Main Square, and there is no need to make a reservation – pay the guide when you arrive. The two different tours are:
The Old Town Tour – This gives the best overview of the town and is also the one that runs the most regularly. It costs 250 CZK and lasts for about 1.5 hours.
The Brewery Tour – for beer lovers, this tour goes through the Eggenberg Brewery and allows you to sample a number of the region's beers. It costs 200 CZK and is about one hour long.
For those wanting to find their own way around the town, consider renting an audioguide from the tourist office. These cost 100 CZK per hour. You can also arrange private tours, usually starting from 400 CZK per hour.
Tourist Information
Address: Rooseveltova 28, phone (+420) 380 712 853
Opening hours: Tours of the castle are given from April through October, though you can stroll the castle grounds year-round. Castle: Apr-May, Sep-Oct Tue—Sun 9-12, 1-4; Jul—Aug Tue—Sun 9-12, 1-5; Tower: Apr-Oct Tue—Sun 9-9
What's on Mid-Jun: Five-Petal Rose Festival; Aug: International Music Festival
Getting there: Bus from Station Na Knizeci.Bus from Florenc or Na Knížecí; two hours 30 minutes. Train from Hlavní nádraží; three to four hours (change at České Budějovice). Distance: over 180 km south of Prague. 
Arrival in Český Krumlov
By bus: The bus station is located three blocks from Old Town. To get to the town centre, head down the Main Road and then turn left before turning right at the grocery store. Suppose you are getting a taxi to a hotel, budget for about 60 CZK.
By train: The train station is about 20 minutes from town – turn right out of the station and then head down the hill on the cobbled path. You'll be able to find plenty of taxis here as well, with a journey costing about 100 CZK to get you to your hotel. Suppose there aren't any; ring 602-113-113 to get one.
Tip: Book excrusion to the Cesky Krumlov online.