The alley of 30 mostly Baroque statues and statuaries situated on the balustrade forms a unique collection of artistic styles with the underlying gothic bridge.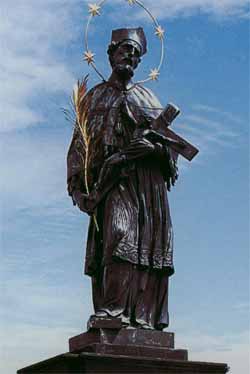 Most sculptures were erected between 1683 and 1714. They depict various saints and patron saints worshipped at that time. The most prominent Bohemian sculptors of the time were all involved in decorating the bridge. These included Matthias Braun, Jan Brokoff and his sons, Michael Joseph and Ferdinand Maxmilian. Among the most notable sculptures to look for are the statuaries of St. Luthgard, St. Crucifix or St. John of Nepomuk. Another famous structure is the knight Bruncvik, although this does not belong to the main alley.
Starting in 1965, all of the statues have been systematically replaced by replicas, and the originals have been exhibited in the Lapidárium of the National Museum.