The smell of mulled wine and Christmas sweets, the warmth of roasted chestnuts in your hands, the melody of carols, decorated streets, folk markets and Christmas trees on every square, that's Christmas in Prague. And if you're lucky, you might even see Prague covered in a snow-white blanket. Experience Christmas in Prague and let yourself be taken away by its festive, relaxed, and magical atmosphere. You certainly won't regret it.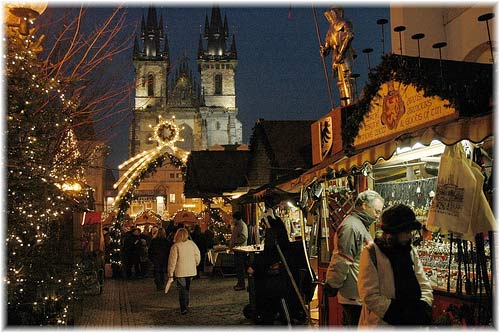 The most beautiful Christmas markets in Prague are on Old Town Square and open from 26 November until 1 January next year. Smaller markets also can be found at Náměstí Míru and Náměstí Republiky.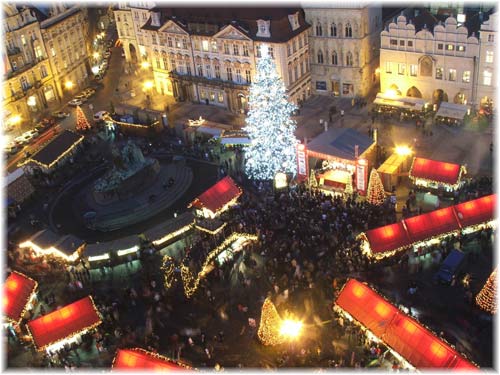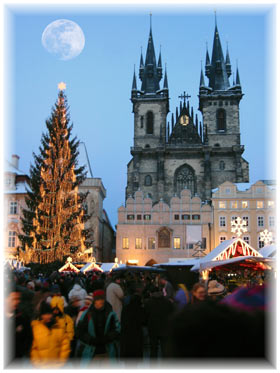 You can buy interesting, often very original gifts for your loved ones at traditional craft markets. Many old Czech crafts are usually on offer there. You will find various wood-carved sculptures, wooden kitchen utensils, straw Christmas ornaments and straw dolls, pottery, beeswax candles, original jewellery, and glass Christmas tree decorations. You will certainly want to choose a little bell from one of the blacksmith's stalls for the Infant Jesus to ring. The smith will make it on the spot right before your eyes. Should you become hungry while shopping, you will be able to taste several traditional delicacies. Those with a sweet tooth will savour the "trdelník" (sweet pastry made from rolled dough usually topped with sugar and walnut mix) or a brandy snap coated in cinnamon and sugar. Visitors preferring something savoury will find a wide variety of sausages and other pig-slaughter delicacies to choose from. Roasted chestnuts are also sure to please your taste buds. And finally, you will certainly be able to keep yourself warm with a cup of mead, mulled wine or punch.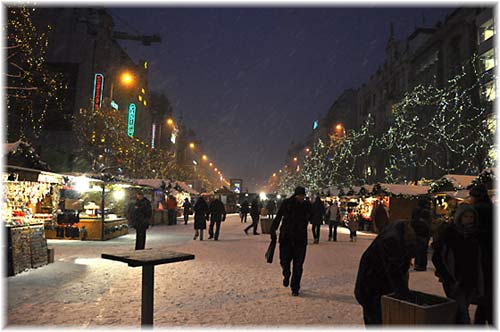 Christmas in the Czech Republic also means listening to Christmas and Advent melodies. Czech Christmas is inherently connected with the Czech Christmas Mass by Jakub Jan Ryba, a Czech composer from the 18th and 19th centuries. The Estates Theatre in Prague will present this work, also known as Hail, Master!, on 19 December. On 25 December, you will have the opportunity to listen to the Czech Christmas Mass played by the Prague Chamber Orchestra in the Church of St. Simon and St. Jude on Dušní Street in Prague. The Prague State Opera will also be performing classical Czech Christmas pieces for its audiences. The Kühn Children's Choir will sing songs from the works of Bohuslav Martinů, Vítězslav Novák, Zdeněk Lukáš, Petr Eben and Václav Trojan.