Christmas Markets in 2013 Will Start on Saturday, November 30th, 2013 and End on January 6th, 2014
Christmas celebrations in the city centre are always the typical folk Christmas. Dozens of stalls and shops with Christmas items are open on the squares. You can buy here, for example, Christmas ornaments and decorations made ​​of glass, ceramics, straw, plastic or metal; scented candles; mistletoe; garlands; hand-knitted scarves, socks, hats and gloves; and some refreshments, such as a hot toddy, mead, grog, mulled wine, prune, roasted chestnuts, corn, sausages, pies and the traditional Christmas cinnamon speciality – trdelník. Of course, there is also the option to buy carps, an integral part of the Czech Christmas tradition. Everyone certainly has a choice.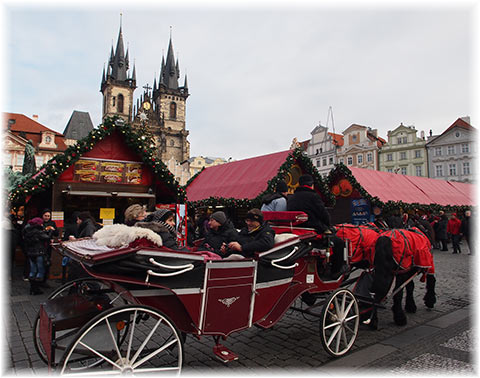 In Prague, you will find several Christmas markets; the Christmas markets in Wenceslas Square and Old Town Square are among the best. The Prague Christmas markets can be compared to Christmas markets in such cities as Berlin, Brussels and Munich. They are rightly considered among the most beautiful Christmas markets in Europe.
The main Christmas tree is located in Old Town Square, also the tallest Christmas tree in Prague. The ceremony of lighting the Christmas tree each year in Prague is visited by hundreds of tourists, not only from the Czech Republic but also from other European countries. Beneath the illuminated Christmas tree, there is even a nativity scene with lots of animals, shepherds and the three magi who came to give presents to the baby Jesus. What kind of Christmas tree would it be if no Christmas carols were played there? Therefore, carols are not missed at the Christmas markets, and several different choirs and dance ensembles perform at the Christmas stage. In particular, children's choirs often perform here, singing carols, and they are always a huge success. So if you want to experience the true Christmas spirit, head to the Christmas markets.
The ceremony of lighting the Christmas tree at this year's Christmas market in Old Town Square and Wenceslas Square in Prague will have a truly fabulous cast. A richly embellished twenty-metre-tall spruce will be lit on Saturday, November 30th, 2013, by the most famous Czech Cinderella – Mrs Libuše Šafránková.
Mrs Libuše Šafránková was chosen not only with respect to her long career as an actress but especially with a new character that she performs in the film Will Santa Claus Come This Year? Some scenes are directly incorporated into the area of the Christmas market in Old Town Square, and they were shot in this authentic atmosphere.