Marking the boundary between the Old Town and the New Town, its name dates from the time when the church was a part of the town wall during the fortification of the Old Town. Originally a Romanesque building, it was renovated in Gothic style twice. During the Hussite Movement in 1414, it was this church where communion was offered for the first time to everyone, not only priests.
The church was built in the settlement "Újezd" a long time ago, namely in 1178. The settlement Újezd was divided into two parts during the construction of the town fortifications in the 13th century. The bigger part was located outside the fortifications in the premises of the later New Town, and the smaller with the church was a part of the Old Town.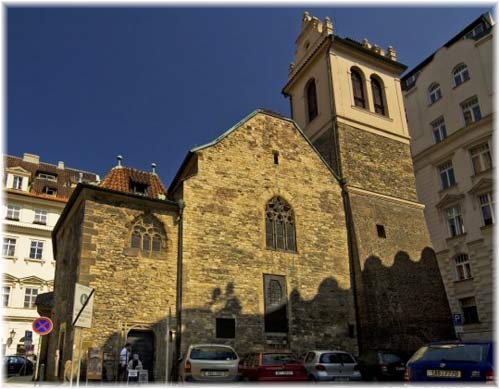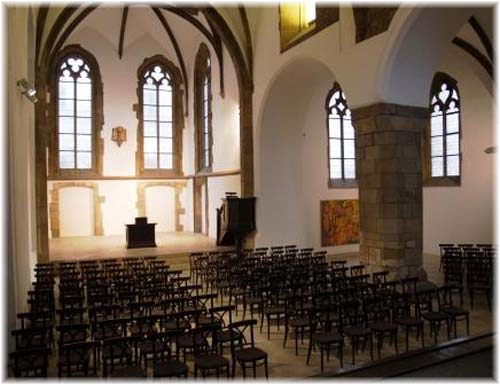 The Origin of the Name
Many of you will have the idea that the name perhaps originated from a legend about built-in St Martin. However, we need to disappoint you; the name has quite a different source. Because the church wall was touching the south fortification wall, it was later called "St Martin Church in the wall". There used to be a town gate in the neighbourhood called St Martin Gate.
The church was originally built in the Romanic style. However, it was rebuilt in the Gothic style under the reign of Charles IV, during which a prismatic wall was constructed. The late Gothic reconstruction, i.e. the current appearance of the church, was completed around 1488. The church was affected by a great tragedy when it burnt down in 1678. Due to the fire, the whole upper part of the tower had to be rebuilt. Another turning point was the year 1784 when the church was cancelled and turned into storage, apartments and shops – which is most unusual in the history of the most sacral monuments.
Address: Martinská, Praha 1; In Czech: Kostel sv. Martina ve zdi