What to Bring and Wear
Casual clothing should suit most occasions. In summer, take lightweight clothing but be prepared for showers and bring a warm layer in case it's cool in the evenings. In spring and autumn, a coat or thick jacket is advisable. In winter, take a coat, hat and gloves. Because Prague's weather is fairly damp and unpredictable, umbrellas, raincoats and windcheaters are needed almost throughout the year to protect yourself from the sudden downpours (but can even be purchased from the many stores once you arrive). Toiletries, medicines and cosmetics are very easily available in Prague.
When attending an opera or play, a classical concert, or even dining in a fine restaurant, smart clothing is highly appropriate. Men typically wear a suit and tie, and women an evening dress. Casual dress is considered acceptable at performances of modern music, avant-garde plays and so on.
– Taking a mini umbrella is a good idea!
– Take comfortable shoes as you will do a lot of walking, and since many streets are cobbled, it can be tough on your tootsies.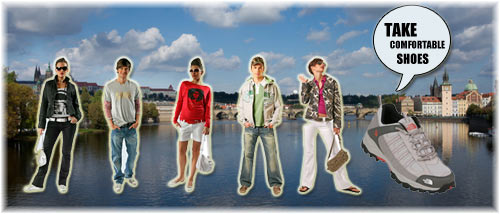 Climate
Prague is located in a landlocked country in Central Europe with continental weather patterns springing from Russia, but it can experience mild, wet weather from the Atlantic. Winters are generally cold and wet, but they can stay dry and clear for long spells. Particularly when the wind blows from Russia, it can be really very cold. Summers are mostly warm but rainy. June and July are two of the rainiest months of the year, while spring and autumn are marked by changeable weather. The hottest months are June and July, with temperatures of around 30°C.
Average Annual Temperatures
January -1,7°C / 28,9°F
February -0,9°C / 30,4°F
March 3,8°C / 38,8°F
April  8,5°C / 47,3°F
May  13,5°C / 56,3°F
June 16,7°C / 62,1°F
July 18,3°C / 64,9°F
August 17,8°C / 64,1°F
September 14°C / 57,2°F
October  9,3°C / 48,7°F
November  3,7°C / 38,6°F
December  0,1°C / 32,2°F