Coffee (káva) and tea (čaj) are popular hot drinks everywhere in the world, and no less so in Prague. There are a few coffee terms regarding different coffees. The traditional Czech coffee is Turek, or Turkish coffee (hot water poured over ground beans that end up as sludge at the bottom of your cup). Espresso is a black coffee or a kind of Italian version of strong Espresso. Coffee with milk is called 'espresso s mlékem'. Vídeňská káva (Viennese coffee) is another popular choice and consists of coffee topped with whipped cream. Coffee-machine coffee called presso or překapávaná is more commonly served now, and finer preparations such as and cappuccino latte are offered in many cafés and restaurants as well. Decaffeinated coffee, however, is still very rare. The quality of coffee prepared in Prague varies, and even some very good hotels still serve instant coffee rather than freshly brewed coffee. Fortunately, there are many excellent cafés and chains, including Cafe Haven and Starbucks, if you are desperate for a well-made coffee. The tea served in Prague is mostly weak and usually comes with a slice of lemon. Tea with milk is not commonly offered, but you can always ask for extra milk. Tea houses have popped up in recent years on many corners serving world-renowned teas.
Tip: Have a cup of coffee in one of Prague's glorious coffee houses such as Café Slavia or Café Imperial. Interior gives the sensation of being transported back to the 1920s.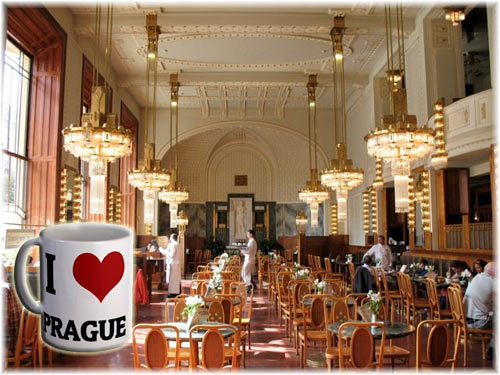 Shakespeare and Sons
Come not only for the food but also for poetry readings, newspapers, chess games, beer, funky art, tea, coffee, and cakes.
Address:  Praha 10, Krymska 12; website
Au Gourmand
If you are looking for melt in your mouth, pastries and other goodies, then make sure to stop here.  These treats might not be good for your waistline, but they will taste good.  Au Gourmand offers succulent savouries and tortes along with those pastries and is a lovely addition to the city's growing café scene.
Address:  Praha 1, Dlouha 10; website
Café Lounge
Another café to recently open up in this new wave of small restaurants, Café Lounge offers a great ambience to accompany either a cup of coffee or a glass of wine.  With an air of sophistication and elegance, it has numerous tasty treats as well.  In addition, Café Lounge shares a common wall with the historic Hunger Wall.
Address:  Praha 5, Plaska 615/8; website
Friends Coffee House
With a name like this, you can expect a very relaxing atmosphere where you might find yourself spending the entire day.  Located in the city centre, Friends Coffee House also has small sandwiches and even wine for sale later in the day.  There is also a calendar full of social events.
Address:  Palackeho 7, Mustek; website
Cukrarna Saint Tropez
If you are looking for sweets, this shop has just about everything you could want.  There are cakes, croissants, chocolate and other great items such as those layered with fruit.
Address:  Praha 1, Vodickova 30; website