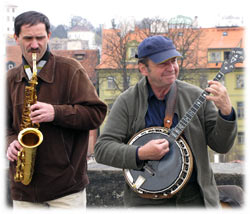 Along with the dedicated concert halls, Prague's many churches and Baroque palaces also serve as performance venues, staging choral performances, organ recitals, string quartets, brass ensembles and even full orchestras.
Prague 1,  Staré Mesto,  Staromestské square 13
Getting there: underground lines A, B – Mustek, A – Staromestská
DVORÁK HALL, SUK HALL (The House of Artists
from 1876-84 – the seat of the Czech Philharmonic orchestra)
Prague 1, Staré Mesto, Alšovo nábreží 12
Getting there: underground line A – Staromestská , trams n.17,18 – Palachovo námestí
Tel: 2489 3111
MUNICIPAL HOUSE (Obecní dům)
SMETANA HALL, SLADKOVSKY HALL, ART NOUVEAU HALL
Prague 1, Staré mesto, Republiky square 5
Tickets daily 10 am-6 pm
tel: 22 00 21 00(01)
Getting there: underground line B – Námestí Republiky, trams n. 5, 14, 26 – Námestí Republiky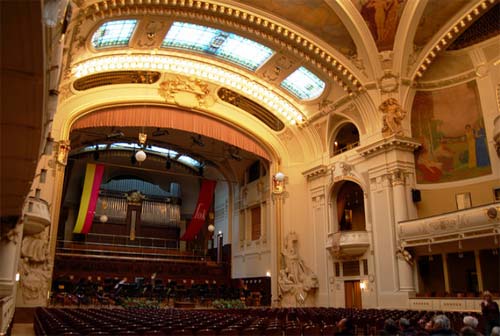 ATRIUM IN ZIZKOV (Atrium na Žižkove)
concerts and exhibition hall
Prague 3 – Žižkov, Cajkovského 12
Tel: 22721838
Getting there: trams n. 5, 9, 26 – Lipanská
BERTRAMKA – MUSEUM OF W.A. MOZART (Memorial to Mozart and the site of classical concerts)
Prague 5, Smíchov, Mozartova 169
Tel: 57318461
Getting there: underground line B – Andel, Trams n. 4,7,9,12,14,- Bertramka
Music concerts begin at 17.00
COLLEGIUM MARIANUM – Barokní knihovní sál  (Monastery Library)
Spiritual music of the 17th and 18th centuries, performed by the college ensemble under a splendid Baroque ceiling decorated with frescoes.
Melantrichova 19
Tel: 24229462, 90004448
Baroque library hall.
CLAMM-GALLASS PALACE (Clamm-Gallassuv palác)
Prague 1, Husova 20
Getting there: underground line A – Staromestská
FOERSTR HALL (Foerstrova sín)
Prague 1,Nové Mesto,Pštrossova 17,
Tel: 24 93 03 82
(parsonage behind st. Vojtech church)
GALERIE MIRO
St. Roch church (Kostel sv.  Rocha)
Prague  1,  Strahovské  nádvorí 1/32
Tel: 20 51 45 89
LICHTENSTEIN PALACE (Lichtejnštejnský palác)
Martinu hall, Gallery
Prague 1, Malostranské square 13
Tel: 57 53 42 06
Advance sales of tickets Mo-Su 11.30 am – 12.30 pm and 1 pm – 7.30 pm
CHODOV WATER FORTRESS (Chodovská vodní tvrz)
Prague 4, Ledvinova 9
Tel: 67 91 48 31
Advance sales of tickets Tu-Su 1 pm – 7 pm or  tel: 67 91 48 31
KAISERSTEIN PALACE (Kaisersteinský palác)
SALON OF EMA DESTINOVA
Prague 1, Malostranské square 23/37 
NATIONAL HOUSE VINOHRADY (Národní dum Vinohrady)
Prague 2, nám. Míru 9
Tel: 21 59 62 21
MIRROR CHAPEL OF KLEMENTINUM (Zrdcadlová kaple Klementina)
Prague 1, Mariánské square
Velký sál Lucerny
Graced by stars and legends. No matter who is on stage, the beautiful Art Nouveau hall (4000 capacity) will remain long in the memory.
Address: New Town, Vodičkova 36; www.lucpra.com
Spanish Synagogue (Spanělská synagoga)
From Bolero to Carmina Burana, Gerswhin to Klezmer groups, the Synagogue is a breathtaking backdrop to any soundtrack. Real gold glitters all around.
Address: Josefov, Vězeňska 1
Tip: Visit Krizik Fountain, offering you an exceptional musical and dance experience. Křižík's fountain is one of the biggest attractions of the Exhibition Grounds. It was built on the occasion of the centennial exhibition in 1891, and its current appearance is the result of reconstruction carried out a century later. Křižík's fountain is, without exaggeration, unique in Europe. Its effects are produced by a number of water circuits, jets and underwater spotlights of various colours. These effects accompanying both classical and modern music are remembered as an outstanding experience by visitors from many countries. The walls of the adjacent pavilions encompassing the fountain create an amphitheatre for more than 6 000 spectators.