Recently there have been a lot of chamber concerts performed by aspiring musicians in the city's churches. It is definitely good to remind; don't forget to take an extra layer as the churches are quite chilly even in summer. Tickets can be bought at TicketPro or box offices; these will mostly open half an hour before the performance starts.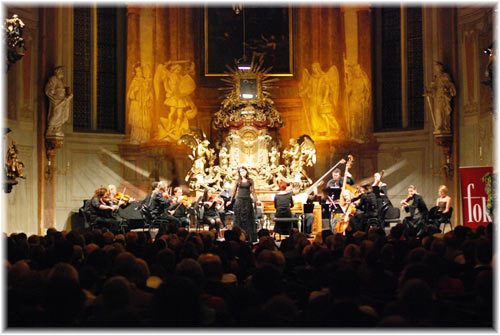 Places of Worship
Many churches and synagogues are tourist attractions as well as places of worship. Times of services are normally posted on the door. During masses or prayers, visitors are mostly not allowed to take photos or wander around. No formal dress is required, except for yarmulkes in synagogues and at Jewish cemeteries (paper ones are usually available at the synagogues). Many churches also function as concert halls. In a few cases, the only way you can see inside a church without paying is to slip inside and attend a service.
Listing of popular churches where concerts are regularly held:
Location: Křížovnické nám., Prague 1 (right next to Charles Bridge), Information & reservation Tel. 272 736 724 – office, Tel. 221108 266 church, from 10 am till the beginning of the concert, Tel. 724 192 232, the detailed program is available at the St. Francis Church and in advance ticket sales.
Location: Petřín Hill, Lesser Town (next to the Petrin Observation Tower).
 Location: Karmelitská 9, Malá Strana. Open Mon-Sat 8.30-5.30, Sun 1-5. The history of this church dates back to the 17th-century. In 1628 a small wax effigy of the infant Jesus, 'Bambino di Praga', was given to the church and was thought to have miraculous powers.
Location: National gallery in Prague, U Milosrdných 17/814, Information Tel. 33 35 73 32.
Location: Križíkova 57, Prague 8. Information & reservation Tel. 24 93 06 09.
Location: Jungmannovo square 18, Prague 1
Gallery of Knights of The Cross
Location: Križovnické square (near Charles Bridge). Information & reservation Tel. 21 10 82 66 or Tel. 72 73 67 24.
Location: Husova 8, Prague 1
Location: Dušní, Prague 1.
Concert hall of Prague Symphonic orchestra FOK.
Church of St Wenceslas (Kostel sv. Václava)
Location: Nám. 14. Října, Prague 5 – Smíchov
Location: Hellichova 18, Lesser Town.  Information & reservation Tel. 57 31 04 14. Concert hall of Prague Spring.
Salvator Church (Kostel u Salvátora)
Location: Salvátorská 1, Prague 1 (entrance from Parížska and Kostecna street).
Location: Dušní 12, Josefov
Location: Malá Štupartská, Old Town. Open: Daily 9.30-12, 2-4.
Built on the site of an ancient Gothic church, the baroque St James's church has wonderful acoustics, and many concerts and recitals are performed here.
Location: Old Town Sq. Open Apr-Oct Mon noon-4, Tue—Sat 10-4, Sun noon-3, Nov—Mar Tue, Thu, Fri, Sun 10—noon, Wed 10-4.
In the Old Town, St Nicholas's Church was once hemmed in on three sides by houses resulting in the twin-towered façade having a southerly facing aspect rather than traditionally facing west.
Advance sales of tickets for church concerts
Tickets also available an hour before the beginning of concerts.