The Prague Congress Centre
The Prague Congress Centre is one of the biggest and most important congress centres in central Europe. In 2000, building renovation works were completed, and the building is now fully modernised. A large hotel and office facilities were also added. The centre offers 20 halls and 50 rooms with capacities ranging from 12 up to nearly 3000 people. Its wide range of meeting, banquet and exhibition facilities, including related services, is the largest and most comprehensive congress and conference services provider in Prague and the whole national market.
Žofín
On the other hand, in the historical conference rooms of Žofín, you will feel the idyllic atmosphere of old Prague. The neo-Renaissance structure was completed in 1886, and in 1992-94 it was extensively reconstructed. Today the building provides exclusive rooms for conferences, congresses and other business meetings, and representative balls and other social events.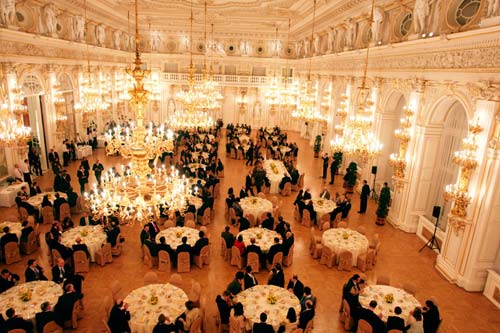 The Municipal House
You can also organise your congress or conference on the premises of the Municipal House, the most prominent Art Nouveau building in Prague. The building offers 15 conference rooms with a total capacity of 1,000 seats.
Prague Castle
If you are looking for an exceptional place for the conference, then Prague Castle is one of them. There are five conference rooms available to potential customers, offering a total capacity of almost 2,500 seats.
Prague Congress Tourism Association
Many agencies are members of the Prague Congress Tourism Association. On the association's website, you will find resources about travel agencies specialising in providing congress and conference services in the Czech Republic, including contacts for hotels suitable for organising a congress. The Prague Congress Tourism Association has over 50 members.