Czech menus can be problematic. Even if you have a reasonable knowledge of culinary terms in Czech, you'll almost definitely require the waiter's assistance. And the waiter will usually recommend the most expensive meals and those that you are likely to know. Therefore, the chance of you tastes some original Czech cooking is not big.
Thankfully, nearly every restaurant (not including the basic country pubs) will have a menu in English and German. Although the translations on these aren't reliable all the time, they'll at least assist you in making your selection to a certain extent.
A typical national dish is 'pork, cabbage, dumplings', accompanied by a pint of beer, the most typical Czech beverage. Czech cuisine is principally Bohemian and closely attached to that of southern Germany and Austria. Vegetarians will not be very pleased, as Czech cuisine uses a lot of fried or roasted meat, usually pork or beef and, on special occasions, game and fish are served with dumplings, potatoes or rice, in a sauce.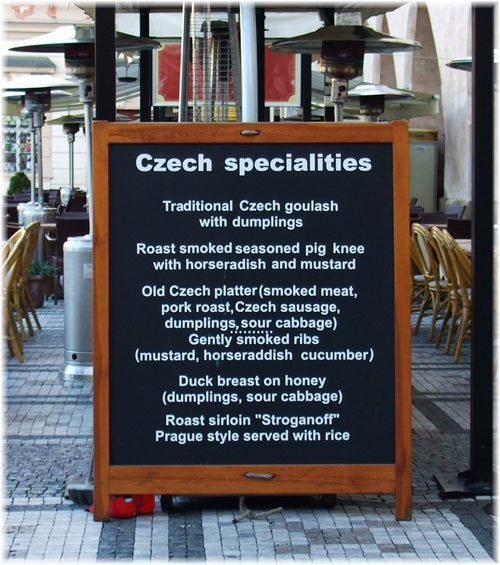 Many Czech dishes have strange names that don't offer any clue as to what's inside them, but certain words might give you a hint. For example, some common names which appear on Czech menus are šavle (sabre; something on a skewer); tajemství (secret; cheese inside rolled meat); překvapení (surprise; meat, capsicum and tomato paste rolled into a potato pancake); kapsa (pocket; a filling inside rolled meat); and bašta (bastion; meat in a spicy sauce with a potato pancake).
Two strangely named dishes that are familiar to all Czechs are Španělský ptáčky (Spanish birds; sausage and gherkin wrapped in a slice of veal, served with rice and sauce) and Moravský vrabec (Moravian sparrow; a fist-sized piece of roast pork). But even Czechs may have to ask what a dish is about.
Baked pork and cabbage
If you ask a Czech to name the most typical Czech dish, good chances are he or she will answer "Knedlo-vepřo-zelo". This dish is synonymous with traditional Czech cuisine.
Bread dumplings
It is not possible to experience Czech cuisine and not try a bread dumpling. Bread dumplings are among the most typical dishes in Czech cooking, but not every visitor will find them as delicious as locals do. They are excellent served with any Czech sauce, duck or goose, as well as game.
Cabbage soup
Cabbage soup is a fundamental part of Czech cuisine.
Fried carp
For many Czechs, fried carp is one of the most important symbols of Christmas. Served with potato salad, it is the country's classic Christmas Eve meal. Still, it is possible to enjoy this meal at any time of the year.
Potato salad
Together with fried carp, potato salad is an essential part of the Christmas Eve meal in most Czech households.
Potato dumplings
In addition to bread dumplings, potato dumplings are another treasure of traditional Czech cuisine. They go well with baked meat and are also excellent served with baked onions, cabbage or spinach.
Beef soup with liver dumplings
Beef soup with liver dumplings is a typical way to begin a classic Czech meal. This soup is found on the menus of most Czech restaurants and is also served at Sunday lunch.
Czech pancakes
In the Czech Republic, 'lívance' is popular both as a dessert and as a main course.
Fruit dumplings
Fruit dumplings are a delicacy specific to Czech cuisine. Regardless of the ingredients used, all fruit dumplings are round and hide a hot piece of fruit.
Sponge cake
'Bublanina' is a ubiquitous Czech cake whose taste changes according to the seasonal fruits available. It is a great accompaniment to tea and also works well as breakfast.
Czech beef with cream sauce and cranberries
A tasty piece of beef covered in a cream sauce garnished with cranberries and served with bread dumplings. This meal is considered one of the most typical Czech dishes.
Sweetened lumps of potato puree
'Škubánky', or sweetened lumps of potato puree, can be served either as a main course or as a dessert. Or if you have some leftover, it can also be served as a side dish.
Other typical Czech dishes are:
– Potato soup
– Omelette (Hemenex) — ham and eggs
– Goulash, served with bread dumplings
– Breaded and fried cheese
– Apple strudel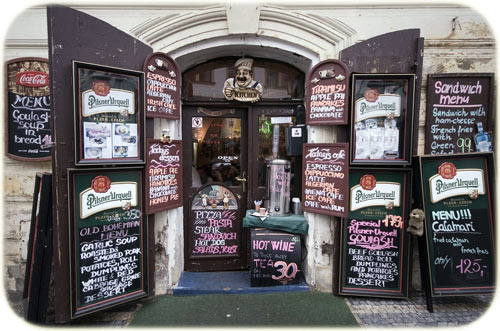 Prices
If you choose to eat in a pub rather than a tourist restaurant, you'll be hard-pressed to spend more than 15 Euro for your soup, main and drink.