For best traditional Czech cuisine head to the following restaurants: U Sádlů; La Degustation; CzecHouse; U Maltézských Rytířů. 
Dress Code: Czechs tend to dress casually and are not too set on formality, so it is generally not necessary to dress up when going to a restaurant unless you visit upmarket establishments; here you should put on smarter attire.
La Degustation Bohême
Team of chefs and pâtissiers prepares three tasting menus consisting of seven courses supplemented with seven amuse-bouches. Come to best traditional meals of Czech culinary art from the end of the 19th century inspired by masterful techniques of the culinary personality Marie B. Svobodova.
Location: Haštalská 753/18, Old Town, website
Open: Mon-Sat 5pm until midnight
Rated: Expensive.
Bredovský Dvůr
This is a very popular spot and is a short walk from Wenceslas Square. It serves the usual Czech dishes, sometimes with great aplomb. Ribs hee stand out, as well as the duck. At times, the kitchen falls well short of expectations. But with a boisterous group, low prices and Pilsner Urquell straight from the tank, the misses don't matter so much. (Tip: be careful about "extra" tourist charges.)
Location: Politických vězňů 13, New Town, website
Open: Mon-Sat 11am until midnight; Sun 11am-11 pm
Rated: Inexpensive.
Budvarka
This is not far from the Dejvická metro station but worlds apart from most pubs when it comes to food service. There are some creative items on the menu, including an appetiser spread of pork cracklings (with decent bread) and goose liver rolled in almonds, cooked in red wine. It is better, indeed, than many three-star restaurants. Oh, and with Bud on tap, naturally.
Location: Wuchterlova 22, Dejvice, webiste
Open: daily 11am until midnight
Rated: Inexpensive.
U Sádlů
The restaurant has a middle-age decor, with suits of armour and weaponry on the wall. The kitchen produces outstanding tenderloin, hearty soups and other burly fare, but with a certain 'je ne sais quoi'. The food is really excellent and the portions are big.
Location: Klimentská 2, New Town, website
Open: daily 11am-1am
Price range: Cheap to Moderate.
Café Savoy
Just off Legions' Bridge, this is a picture-perfect Victorian-era café. Even if the food were marginal, it would be recommended for the setting, décor and ornate ceiling. There's a feeling of casual sophistication about the place and dishes – from entrees to desserts – match the scene: approachable, yet better than the norm.
Location: Vítězná 1, Smíchov, webiste
Open: Mon-Fri 8am-10.30pm; Sat-Sun 9am-10.30pm
Rated: Moderate.
U Maltézských Rytířů

This restaurant on the ground floor and in the cellar of a charming house provides one of the friendliest and most reasonable home-cooked Czech meals in central Prague. The atmosphere makes you feel as if you've been invited into the family's home for a cozy candlelit dinner.
Location: Prokopská 10, Lesser Town, webiste
Open: Mon-Sun 1pm-11pm
Rated: Moderate.
CzecHouse Grill
The Hilton Prague´s flagship restaurant features Czech specialities as well contemporary European cuisine. This is a vast room inside the Hilton dedicated to Chef Roman Paulus' creations. He concentrates on upscale, modern versions of classics but throws in a few twists such as an over-the-top USDA prime beef tartare with caviar. Other than the less-than-stellar view of a parking lot and office building, there's nothing disappointing about this place.
Location: Pobřežní 1, Karlín (inside the Hilton Hotel), www.hilton.com
Open: daily 6pm-11pm and for lunch Mon-Fri noon until 3 pm
Rated: Expensive.
Ferdinanda
This is a cheap, friendly and modern restaurant. Think farm tools (transformed into fixtures and decoration), Ferdinand beer on tap and what amounts to outstanding interpretations of Czech pub food. Plebeian fried bread is topped with grated blue cheese. Try the delicious goulash and sample 'Seven Bullets' beer brewed on the premises, named after the seven bullets that killed Archduke Franz Ferdinand. The goulash is dense, with tender meat and almost intricate layers of flavour. This is the best unrefined Czech food located just in the core of the tourist zone.
Location: Opletalova 24, New Town (just off Wenceslas Square)
Open: Mon-Fri 9am-11pm; Sat-Sun 11am-11 pm
Rated: Inexpensive.
U Palečka
Slightly uphill from Jiřího z Poděbrad, U Palečka is a neighbourhood wine cellar with decent Czech fare. The kitchen stretches traditional recipes with caramelised vegetables and fresh paprika, building dense flavours into dishes often left to fend for themselves. You will find a nice vibe, with outdoor seating under old trees and a real sense of Vinohrady.
Location: Nitranská 22, Vinohrady, website
Open: daily 11am until midnight
Rated: Moderate.
U Provaznice
Service here can be atrociously slow or moderately quick. The room is curious, with bizarre artwork and a poor masquerade of the faux-finish technique. Tables and chairs? Very uncomfortable, but it's quite difficult to find a more reasonably priced example of Czech cooking anywhere so close to the city centre.
Location: Provaznická 3, Old Town, website
Open: daily 11am until midnight
Rated: Moderate.
U zavěšenýho kafe
A cramped front room opens into several large spaces out the back, generally full of rambunctious groups. You will find typical food (read: filling) and daily Czech specials such as potato soup. The location is uphill from Prague Castle, downhill from the Petřín Hill trails – along with the colourful and eclectic décor, these may be the biggest attractions.
Location: Úvoz 6, Hradčany, website
Open: daily 11am until midnight
Rated: Moderate.
Lokál
Part of the successful Ambiente chain of "inventive" restaurants, Lokál has championed the "Slow Food" movement here in the Czech Republic, turning out quality, reasonably priced Czech plates – think livers, fried cheese, svíčková – in a trendy space, with free-flowing Pilsner and a lively, upbeat pub atmosphere.
Address: Dlouhá 33, Prague 1-Old Town; website
Open: daily 11am until 1am
Rated: Moderate.
V Korunní
Tourists rarely, if ever, venture into this no-frills restaurant. So it is mostly a crowd of locals and a few in-the-know expats filling themselves absent-mindedly on hearty Czech meals. Food is straightforward and well-made and anything but visionary. The room is rustic and purposeful. It is pure Czech.
Location: Korunní 39, Vinohrady, website
Open: Mon-Tues 10am-11pm; Wed-Fri 10.30am until midnight; Sat-Sun 11am-11pm
Rated: Inexpensive.
Restaurace u Betlémské Kaple

Restaurace u Betlémské Kaple, to the rear of the Chapel of Bethlehem, is "ye olde" Czech. This has a pale wooden decor, affordable lunchtime offers, and fish specials that draw in locals and tourists looking for a delicious Czech meal at a value price (each day 11:00 to 23:00, at Betlémské Náměstí 2).
Česká Kuchyně

Česká Kuchyně ("The Czech Kitchen") serves traditional steamy Czech food. This blue collar cafeteria is practical, fast, authentic and cheap. Obtain your tally sheet once you enter, take a tray, indicate the food you want, and use the paper for paying with once you depart. It is very inexpensive…providing you don't misplace your paper. After entering, you will encounter serving stations in the following order: 1st salad, 2nd sweets and fruit dumplings, 3rd soup, 4th main meals, and 5th drinks (each day 09:00 to 20:00, centrally located, across from Havelská 23 at Havelská Market).
Mlejnice
Restaurant Mlejnice ("Mill") pub is a fun venue littered with cheerful customers and farming equipment, situated just away from the tourist spot, two blocks from Old Town Square. This pub serves wholesome modern and authentic Czech meals for 150 to 180CZK. Evening reservations are recommended (each day 11:00 to 24:00, in between Zelezná and Melantrichova, Kožná 14, telephone: 224 228 635).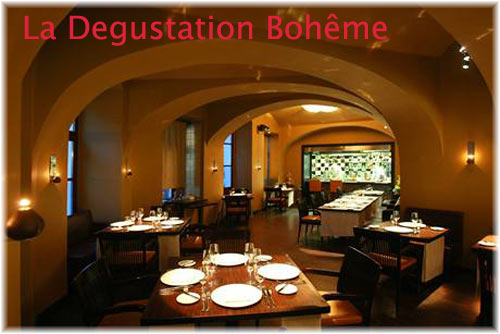 Prague Typical Dish and Drinks
Although Czech cuisine is not exactly a synonym for healthy cooking (tends to be high in calories, fat and sugar) you still should not miss sampling some of the traditional dishes. The traditional Czech dish is knedlo, vepro, zelo (roasted pork served with sauerkraut and dumplings). Other classic dishes are svíčková na smetaně (sliced beef sirloin served in a cream sauce with a garnish of cranberries and, of course, dumplings), gulas (goulash served with dumplings and often garnished with onion slices), vepřový řízek (Wiener schnitzel, fillet of pork coated in breadcrumbs), fruit filled dumplings or the apple strudel. Most common soup in Prague are polevka s jatrovymi knedlicky (soup with liver dumplings), bramboracka (potato soup) or cibulacka (onion soup).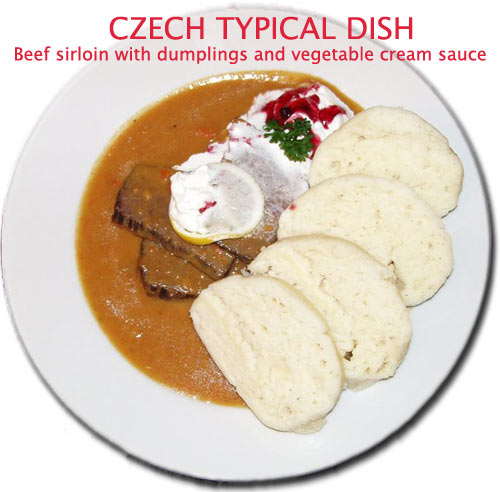 Czech meals are often accompanied by the national beverage, which is of course beer. It is not just the fact that Czechs enjoy beer so much but also a matter of price, a half-litre pint is cheaper than a glass of soda or a cup of coffee. The best-known brands are Plzensky Prazdroj (Pilsner Urquell) and Budejovicky Budvar (Budweiser), but just as good are Gambrinus, Krusovice, Radegast, Velkopopovicky kozel or Staropramen. In general, cerne pivo (dark beer) is sweet while svetle pivo (a light, golden-colour beer) is bitter.