There are many dance and music clubs in Prague, but most of the popular late-night clubbing venues exist outside of the city centre as opposed to the bars. Check out some of the best clubs in Prague we have listed here for you. The best day to hit the night clubs is Thursday to Saturday, but you will never find a club empty in the centre. Please don't arrive before 10.30 pm; that is our advice.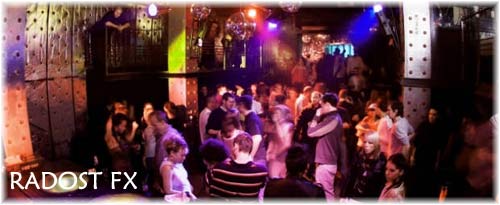 Palác Akropolis

This is the city's best venue with great and often unusual live music and DJs. Performances range from classical local music to modern foreign bands (selection of house, hip hop and reggae). There are two bars plus a café. The theatre bar has great small DJ sets and fun but tight dance floor.

Location: Kubelíkova 27, Prague 3, website

Metro: Jiřího z Poděbrad (line A)

Tram: 5, 9, 26, 55, 58 stop Lipanská

Admission: from 30-400 CZK.
Sasazu

Prague's biggest and newest venue is housed in Holesovice's market complex. Club also includes a pan-Asian restaurant, a major venue for big-name live events and dance club. The club is popular amongst the city's fashionable elite. Go early; otherwise, be prepared for long lines at the door. 
Location: Bubenské nábřeží 306, Smichov, website

Metro: Vltavska (line C) 

Admission: from 100-1000 CZK.
Klub Lávka
Klub Lávka is a cheesy disco with a cool riverside terrace overlooking Charles Bridge and Prague Castle. The party goes on until early morning.
Location: Novotného lávka 1, Old Town, website

Metro: Staroměstská (line A).  Read more
Roxy
If funk and techno is your favourite, then Roxy is the best club in town. Arrive around midnight when the fun starts. It has been one of Prague's most popular clubs since 1993 with live bands, local and international DJs, and concerts. During the day, it serves as a pub. The weekends get busy as the club is open till the early hours of the morning.
Location: Dlouhá 33, Old Town, website

Metro: Náměstí Republiky (line B)
Tram: 5, 8, 14, 51, 54 (stop: Dlouhá třída)
Open: concerts at 7pm; club nights at 10pm. Read more
Mish Mash
Mish Mash has an attractive environment; many hot chicks gather here.
Location: Veletržní, Prague 7, website
Metro: Hradčanská (A).
Klub 007
This is the most reliable of the independent and underground clubs. Expect heaps of students.
Location: Chaloupeckého 7, ČVUT dorms at Strahov, Prague 6, website

Metro: Anděl (line B)
Tram: Koleje Strahov
Open: Mon-Thurs 7.30pm-1am; Fri and Sat 7.30pm-2am.
Radost FX
Here you will find named DJs, alternative music and cool people. There are exquisite sofas and mosaic-topped tables, a café serving great veggie food and cheesecakes, a Moroccan lounge in the back for relaxation and downstairs a dance club that only gets going after late hours. Thursday nights are the most popular as it is hip hop night.
Location: Bělehradská 120, Vinohrady, website
Metro: I.P. Pavlova (line C)
Tram: 4, 6, 10, 11, 16, 22, 23, 51, 56, 57 (stop: I.P.Pavlova).
Mecca
The building was originally used as a factory, and now it is one of the most impressive and popular clubs in Prague. It is a very fashionable club, featuring an industrial-chic club to dance to house and techno music. It is one of the most popular clubs in Prague, even though the club is out of the centre.
Location: U průhonu 3, Prague 7, website

Metro: (Line C) Vltavská
Tram: 01, 14, 54 stop U průhonu
Open: Wed, Fri and Sat 10pm-6am; closed Mon, Tue, Thu and Sun.
Admission: from 150 to 200 CZK. Read more
Karlovy Lázně
This huge and very cool night club is located just 40m from Charles Bridge. Each floor has its own style, from chill-out to hard-core trance; there are live bands at ground level, or you can dance to classic disco on the first floor (Discotheque), rock to 1960s and 70s music on the second floor (Kaleidoskop), or jump around to house and techno on the third floor (Paradox). This is the biggest club of such type in Central Europe.
Location: Smetanovo nábřeží 1, Old Town, website

Open: 9pm-5am
Admission: 100 CZK. Read more
Duplex
Duplex is one of Prague's most popular nightclubs, with huge dance halls filled with local teenagers and even stag-party stragglers. It is a combination of nightclub, café and restaurant. During the day, a sixth-floor terrace restaurant is a great place for coffee to enjoy the views. At night it offers a view overlooking the lights of Wenceslas Square. It is also the place where Mick Jagger spent his birthday while he was in Prague.
Location: Wenceslas Square 21, New Town, website
Open: Wed, Thu and Fri 10pm-5am; Sat 11pm-5am
Closed: Mon, Tue and Sun.
La Fabrique
It is one of the oldest and most well-known clubs in Prague. This disco has a couple of dance floors for people of all ages.
Location: Uhelný trh 2, Old Town.
Chateau Rouge
Location: Jakubská 647/2, Old Town. website
Retro Music Hall
This is a large club with striptease shows. Adjacent to the club is a restaurant and music bar. The club offers a varied roster of local and international bands and DJs rocking the decent floor.
Location: Francouzská 4, Prague 2, website

Metro: Náměstí míru (A)
Open: Thu-Sat 5pm-5am.
Harley´s
Location: Dlouhá 18, Old Town. website
Double Trouble

Location: Melantrichova 17, Prague 1, website
Zlatý strom
Nice place with an illuminated dance floor attracting young Czech teenagers.
Location: Karlova 6, Old Town. website
Music club N11
N11 is a medium-sized club with several bars, restaurant and DJs who play a popular mix of pop, rock and reggae.
Location: Národní 11, Old Town. website
Lucerna Music Bar
A traditional venue near Wenceslas Square, Lucerna Music Bar & Club is the best 80's club in Prague. It hosts all sorts of popular Czech bands and concerts during the week. On Friday and Saturday nights, there are usually 80's and 90's parties accompanied by music videos. Read more
Location: Vodičkova 36, New Town. website
Lavka Bar & Club
Lavka is a good place for a drink and a dance during cold winter nights, and on hot summer evenings, it is the best spot for night outs with everything in one place. Located on the banks of the River Vltava, next to Charles Bridge, it offers a beautiful view of Prague Castle with party music attracting everyone on the dance floor. Read more
Location: Novotneho Lavka 1, Old Town, Prague 1, website
Futurum Club
This is a club with a difference; during the week, the club attracts jazz and soul listeners and sometimes even features film screenings or record launches. The club usually gets busier on the weekends with a mix of old and new music hits. Futurum is open from 9pm – 3am. Read more
Location: Zborovska 7, Prague 5 Smichov, website