A trip to Prague at Easter is ideal for celebrating the end of winter and the start of springs' warmer climes. This period is actually the most important in the Christian calendar. Czechs see Easter as a way of celebrating love and birth and as a chance for families to see each other. Easter in the Czech Republic is also the season where numerous folk traditions occur, which allows tourists to get to know the Czech natives and their cultural traits. Prague is often visited during Easter time. The Easter markets are bustling, spring is just beginning, and colourful Easter decorations bring cheer to the city, even if the weather isn't quite sunny or warm yet. Prague is usually extremely busy with visitors during Easter, so be sure to plan your break ahead of time.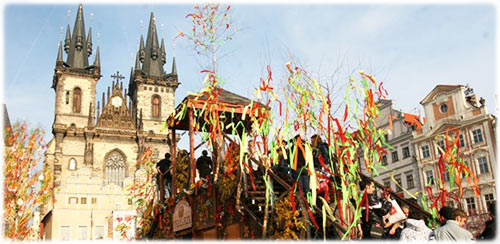 If you stay in Prague for Easter, then you probably will not see the traditions which are still observed in the smaller villages and towns of the Czech Republic. However, you will get to experience the biggest Easter markets in the whole country. The Wenceslas Square and the Old Town Square both host outdoor markets at Easter time. Aside from the sale of items relating to the traditions of Easter, a cultural program is also offered.
The Prague Easter Festival, featuring music from renowned Czech composers, like Gustav Mahler and Antonin Dvorak, inside the splendid concert theatres of Rudolfinum, the Church of Saint Juda and Simon or the Municipal House (www.fok.cz), is delightful over Easter. Further Easter concerts will also be held inside the historic Klementinum building (www.klementinum.com).
Should you be considering a trip to Prague over Easter time, be aware that the climate can often be very erratic. It might still be fairly cold, or you could be fortunate and experience some nice days with sunshine.
The Jolly Easter Customs
Our ancestors deemed Easter to be so significant that they used the whole week preceding Easter to prepare for it. Lots of rituals linked to every day of the week of Easter have been observed to the present day. For instance, people would always clean their chimneys on Nasty Wednesday (marking Judas' betrayal), and it is still believed that, should you frown at all on this day, then your facial expression will remain like this throughout the year. The following day is named Green Thursday, and the tradition says that you ought to consume something green, like cabbage or spinach etc. Numerous restaurants have recently invented a fascinating new spin on this tradition by serving green beer on this day. On Green Thursday, every church bell is quiet while they "fly-off to Rome". Boys use rattles made from wood as a substitute for the bells in the countryside. Tradition states that Good Friday is the day when treasures are revealed after the mountains open.
Easter in Czech also has its' own specific food. There are specially-made cakes for Easter, like Mazance, Judases (Jidáše) and Easter Lambs cooked with lady-finger dough. You will discover baked mutton on the table on Easter Sunday, and Easter Monday's are characterised by foods based on eggs.
Easter Cooking and Easter Monday
The day that best epitomizes the Czech Easter time is, undoubtedly, the popular Easter Monday. Tradition states that all women have to be whipped, using willow rods, or will wither within twelve months. It is the men's duty to provide the women with their whipping for springtime, and they carry out this pagan ritual quite openly. They are even allowed to be recompensed for it – usually with painted eggs from hens, although recently, eggs made from chocolate and other gifts are growing in popularity. Adult males are frequently given a brandy glass from the women, or other alcoholic drink, as a substitute for the eggs. The more homes that the males visit, the more alcohol they receive. Thus, Easter Monday is always a very jolly day in the Czech Rep.