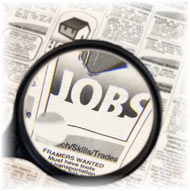 People who travel to Prague and are not EU or EEA citizens must have the proper documentation to work. It is important to get this paperwork satisfied before coming to this area. Employees with transfer positions need to consult their employers about these documents. Visas are issued based upon work status, so this is a critical component to travelling to Prague.
Foreigners who are looking for work need to find the most effective methods to do so. Resumes are some of the best tools for securing employment. Composing a good resume will put you in the running for the right job. Basic information is a part of what is necessary for any resume. This information includes your name and where you can be contacted in Prague. Employers will need this information from you. Your work and education experience are other critical components of your CV or resume. It is also a great idea to include your awards, honours, and organizational memberships. Use this information to show your qualifications for the job being applied for.
With all of the competition it is a good sign if you are invited for an interview. Being prepared for this process is paramount. Many Czech employers use first impressions to determine if a potential worker is right for the position. Being prepared for your interview is essential. Several methods can help you find work in Prague. Let's take a look at some of these.
Advertisements
There are two practical ways to use advertisement. One is the classic method of posting flyers for work. The other is to use the technology of the internet to locate potential jobs. This type of self-promotion can help you to land the job that you're looking for. At the same time, it is important to use other techniques. Frequently visit bulletin boards, restaurants, cafes, and other local establishments in search of work.
Search Your Area
Once you've exhausted the locations in your neighbourhood, start searching your district. There are bound to be many different companies and businesses here. Bulletin boards around town will prove helpful. One to start with is the Charles University Arts and Philosophy Faculty board. Every level of the FAMU building will also provide you with possible job information. Another location to search is the Globe Bookstore.
Restaurant Openings
There are probably some great restaurants that you enjoy in town. Visit several restaurants and look at their bulletin boards. They often post job openings in their windows. Search in locations that are filled with a variety of different restaurants.
Lodging Options
In Prague you will find a number of hotels, hostels, and guesthouses to choose from. These are all good places to search for work. Workers who can speak various languages are usually highly sought after. Remember that the work here will likely range in shifts.
Utilize Your Acquaintances
You may have friends or acquaintances who are already working in Prague. These are people who may have connections that can help you. If there are job openings or upcoming hiring occasions, you can be prepared. Friends aren't your only acquaintances in this location. Your neighbors can be helpful as well. Some of them may want to learn English. Although this isn't the full-time work that you desire, it is an opportunity. Your acquaintances can also provide you with short-term ways to earn. Babysitting, typing, and other simple tasks can help you earn money. Remember to keep business cards when you meet a new acquaintance, this could be a tool you will need in the future.
Networking Sites
There are a number of popular networking sites that can come in handy for your job search. Facebook is just one example of the sites in this category. You can use this tool to alert your friends about your unemployment issues. Your friends may have leads or advice that could help your search. LinkedIn is another site that has origins in career networking. Users can access this resource to find work. Twitter, of course, is a resource to utilize. Local businesses and organizations may provide you with information about employment opportunities.
Take a Look Around You
A part of your job search in Prague can be focused on the area that you reside in. Walk around your neighbourhood and look for local agencies and businesses. It is a good idea to start with the smaller establishments first. Once you've done your search and documented these locations, you can phone or contact them about possible employment opportunities. It is important to remember that they may not all speak English. You will need to communicate with them in their language, which may require assistance.
Search the outskirts

As you pursue your job search, do not forget about the outskirts of Prague. There are some areas that residents are not as interested in working. These could be great opportunities for job seekers. It is possible to get work through language agencies. In some cases, you can make more money because of your commute. If work opportunities are greater on the outskirts, you may want to consider moving. Finding work is the ultimate goal, and relocating can be a benefit ensuring your stay in the Czech Republic.
Volunteering Options
If you are not in a hurry to find full-time work, consider volunteering. There are many great places to volunteer in town. Some of these options are schools, local businesses, and NGOs. If you are dedicated to your volunteer work and are well-liked, a position may create itself. This is a good opportunity to do what you care about and to make useful connections.
Visit Your Embassy
Visiting your home embassy is another method of locating work. It is important to dress presentably on your visit. The embassy may have vacancies that are available as it relates to the work that you do. If this is not the case, staff members can point you in the right direction as you search.
New Opportunities
Although you may have a goal job that you're looking for, new opportunities can be good. These are short-term work options in areas that you may not be familiar. Prague offers a variety of opportunities in this category. Doing voice-overs for videos or stand-ins for films are two of these. Dog walking is another way to earn while you continue to search for full-time work.
Become a Tour Guide
These are jobs that are very popular in the tourist populated portions of the city. Many agencies hire guides. This is one opportunity for you to gain work. Some agencies will require you to train for this position, which will require an examination to get your tour guide badge. The Guide of Prague is a badge that will qualify you to present history, important facts, and historic sites to tourists.
Find Work in a Call Center
National and international companies have call centers. Most of these centres are interested in hiring people who speak more than one language. These are customer service jobs for various companies and industries. Companies that have foreign workers will be good opportunities to find this work.
Are You an Artist?
Artists have many opportunities when it comes to earning money. You can use your talent as a resource. There are locations around Prague where you can sell your art. Charles Bridge is one of these locations. You can also try around bars and restaurants.
Do You Sing?
Musicians of various types can earn money in tough times. Some bars and restaurants hire amateur singers. Weddings and other events are planned with having singers and musicians in attendance. Singing in public locations is a less organized way to earn possibly. Donations can be given to good singers. Some of the other venues for singers and musicians are museums, galleries, bookstores, and parties.
Edit and Write
People with a particular talent for writing can earn money through a variety of methods. They can write or edit depending on the opportunity. Applying for English-language publications is one way to find work. The internet provides many other opportunities for writers. You can apply for freelance work from any location. While you're living in Prague you can work for clients around the world. Freelance sites like Elance and Freelancer are great job listings in this category.