You can send and receive emails and browse through the internet at numerous internet cafés and bars in Prague. You can also log on to the internet through LAN plugs at most hotels and via a WiFi connection. Some internet cafés will also offer ethernet sockets so bringing your own laptop/notebook is not a problem. Prices at internet cafés range from 50 CZK to 150 CZK per hour.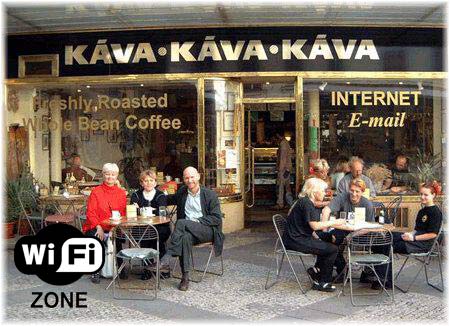 Prague Internet Wifi Coverage
In the prevailing part of Prague, most hotels, shopping centres, supermarkets, petrol stations, etc., are covered by a WI-FI internet connection, which mostly has to be paid for but in some cases are free of charge.
Free Wireless WI-FI Internet in Prague
Several coffee shops and restaurants offer a free Wi-Fi connection. You need only to bring your laptop with a Wi-Fi adapter.
– all branches of Starbucks
– Café Savoy
– Café Slavia
– Caffe Kaaba
– Grand Café Orient
– Káva Káva Káva (Come here for the best coffee and espresso in town. It also serves pastries and has internet facilities including free VViFi.)
– Vltava Cafe and Restaurant, Masarykovo nábřeží 22
– Jáma Cafe and Restaurant, V Jámě 7
– Modrá Lavička Czech-Thai restaurant, Opletalova 19
Mobile 4G/5G Internet
You can get connected to the internet via your mobile operator as well, depending on your tariff and roaming access (using 4G or 5G). If you are staying longer, it is worth buying a local sim card and arranging some tariff for mobile broadband. Connection is fast and reliable.
Mobile prepaid internet from T-Mobile
This gives you unlimited access to the internet for 850 CZK monthly. The maximum speed is 0.5MB per sec. No contract is required; buy a prepaid sim card pack called Twist. Then you need to activate this service by sending an SMS text message to 4603 with the text 'SURF A'. The service can be activated only if a sufficient balance is available.
Selected Internet Cafés in Prague
– Net Cafe, Na poříčí 8 (just 1 CZK for one minute)
– Bohemia Bagel, Újezd 16 (internet, restaurant and café)
– Bohemia Bagel, Masná 2
– Internet Cafe Prague, Národní 25
– Internet Cafe Prague, Liliová 18
– Cybeteria, Štěpánská 18
– Internet & Tea, Na příkopě 25.
If you need the Internet for a few hours and want to save some money, it might be worth heading to Pl@neta Internet Café, where you will find rates starting at 40 hellers a minute (Vinohradska 102, Prague 3, Tel: 267 311 182). This café also offers Microsoft Word, Excel and other programs that other cafés don't.
Free Internet at The British Council

They have two terminals. Council is located at Narodni 10 (metro station Narodni trida, entry around the corner from the side street).
Free Ad-sponsored Wi-Fi hotspots in Prague
There are several hundred ad-supported hotspots in the city.
Tip: The most well-known Prague café. Café Slávia with free WiFi on Národni Street, opposite the National Theatre is probably the most well-known Prague café. From the 19th century until now, this café has been a meeting place for distinguished personalities from Czech's cultural scene.