The monastery Na Slovanech with its church was founded by Charles IV in 1347. The ruler invited there Slavic Benedictine monks from Dalmatia and Croatia. The area was thus destined to become the only Slavonic monastery of the entire empire. The liturgical language used for preaching was an ancient predecessor of Czech. Such personalities as Jan Hus and Jerome of Prague were among the students. Several illuminated literary jewels were created here, including the so-called Reims Gospel book and the first complete translation of Jerome's Vulgata.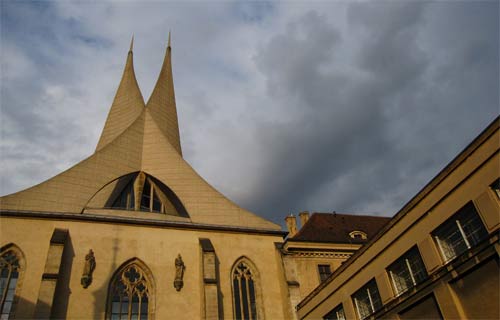 The name "Emauzy" was derived from the gospel, according to which Jesus met with his disciples near the village of Emmaus. This gospel was read during the solemn consecration of the monastery, and the subject was immortalised in the name given by people to the place. Another version of the story says that "Emauzy" was derived from Emmahaus (the house of Ema) nearby, which should have belonged to the castle owned by the Czech queen Ema.
History
– The monastery, together with the church, was solemnly consecrated by archbishop Ocko from Vlasim in the presence of Charles IV on 29 March 1372.
– The wall paintings rank among the most precious relics of the Czech Gothic period.
– In the 16th century, the abbot Matthew Benesovský transformed the area into a tavern with a skittle-ground and musicians for entertainment; in the early 17th century, the astronomer Kepler lived here for a few years.
– In 1712, both the monastery and the church were transformed into the Baroque style, a tripartite one replaced the high roof, and the two low frontal bulbous towers of the church were built.
– After 1880, the monastery, as well as the church, was restored and altered to the so-called Beuron style.
– On 14 February 1945, during an American air-raid in Prague, the church was destroyed. Later on, a modern structure was installed: an asymmetric 32-metre high shell structure with a 40cm thick construction of white concrete.
A legend about a cook from hell
Emauzy in Prague: according to some legends, the monastery belongs to the haunted places of Prague – the culprit being the "Emauz devil". The Benedictine monks were reportedly so heavenly-minded and virtuous that hell itself felt disturbed. They, therefore, sent a cook to the monastery who prepared meals of such excellence that devotional life was soon forgotten, and the monks started to prefer the delights of wine and tasty dishes. Once the deception came to light, though, the cook was turned into a black cock, and the monks returned to their virtuous habits.
Opening hours: from 9 am till 4 pm (in summer months till 5 pm)
Location: Vyšehradská 55, Prague 2
Other names: Emmaus Monastery