A growing number of the city's cafés and bars allow their customers to get online wirelessly and at no extra charge. In fact, it is not an absolutely free service in most cases because it's expected that you purchase something while using their wi-fi connection. Many cheaper and mid-range hotels, budget hostels and serviced apartments offer wi-fi to their guests free of charge. Still, on the contrary, most upmarket hotels in Prague try to impose high charges for internet usage.
You can also log in to one of the many public wireless networks in the city centre. At last count, there are over 100 free Wi-Fi hotspots, so you should never be stuck without internet access.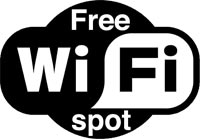 The locations listed below advertise free wi-fi.

– Café De Brug, Masná 5, Prague 1
– Café Louvre, Národní 22, Prague 1
– Café Metropole, Anny Letenské 18, Prague 2
– Dépot, Petrská 23, Prague 1
– Fraktal Bar, Šmeralova 1, Prague 7
– Kavárna Mokka, Vodičkova 16, Prague 1
– Vagonkafe, Vodičkova 34, Prague 1
– The Pub, Veleslavínova 3, Prague 1
– Kavárna Therapy, Školská 30, Prague 1
– Káva Káva Káva, Národní 37, Prague 1 or Lidická 42, Prague 5
– La Casa Blů Restaurant, Kozí 15, Prague 1
– Restaurace Jáma – The Hollow, V Jámě 7, Prague 1
– KFC, Vodičkova 32, Prague 1
– Kavárna U prstenu, Jilská 14, Prague 1
– Monalisa, Opletalova 32, Prague 1
– Café Jericho, Opatovická 154/26, Prague 1
– Jam café, Národní 25, Praha 1
– Café Citadela, Klimentská 16, Prague 1
– Cafe WOW, Kozí 5, Prague 1