Golf Courses Around Prague
The Golf Resort of Zbraslav and some hotels in Prague are providing Golf Lessons/Courses; two such places are Hotel Cechie and Erpet Golf Centrum. Dozens of other golf resorts can be found all over the Czech countryside, always thoughtfully situated in undulating forest terrains, with excellent views of rivers and valleys, or in the romantic environment of parks. The basic services provided to visitors include golf equipment rental, top-quality beginners and advanced courses – and a wide range of complementary sports activities. Some of the top category hotels have golf courses of their own.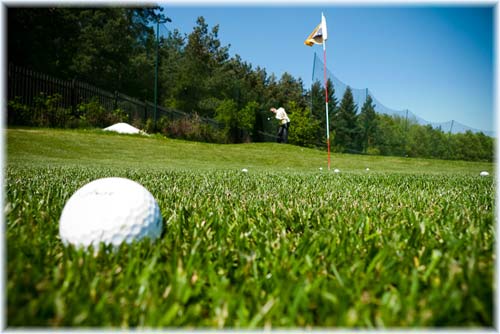 Golf Courses in the Czech Republic
Since 1990 there has been an increasingly marked interest in specialised golfing holidays worldwide. In the Czech Republic, the demand from golfing holidaymakers has led to many luxury resorts that feature integrated golf courses. The tradition of golf in the Czech Republic has been successfully developing since the beginning of the 20th century. The number of golf clubs (currently about 124) in the country is growing rapidly and the number of players. The exceptionally beautiful surroundings in which Czech golf clubs are established are a great advantage.
Among the most attractive courses are the extensive grass ones in Karlštejn, Konopiště, Šilheřovice and Cihelny near Karlovy Vary. The golf course in Mariánské Lázně is situated on an attractive spa, boasting magnificent natural scenery. It was founded in 1905 by Edward Vll, King of England.
Karlovy Vary has the oldest golf club in the Czech Republic.
In Zaloň near Jaroměř, a new large golf complex/resort called Nová Amerika (New America) offers top-quality services and a unique experience.
The 18-hole course at Čeladná promises to make an impression, with a magical atmosphere and beautiful views of the Beskydy mountains.
Meanwhile, the region called Kravaře has a 9-hole golf course set in a beautiful English park, next to a Baroque castle. The landscape is dotted with one-hundred-year-old tree – and plenty of water hazards.
Karlštejn Golf Club
Just about 30 minutes drive from Prague in Karlstejn village, you can play golf surrounded by beautiful green scenery. The golf club was established in 1993 and hosted its first European PGA tour event in 1997. Today it serves up a challenging 18-hole, par-72 course on the hill just across the river from the castle with some truly magnificent views. It's an uphill course, so be prepared to lug your clubs uphill between holes. The club is a bit expensive, with green fees starting at 2,000 CZK, but it's definitely worth it for golf enthusiasts. There's also an excellent nearby relaxation centre with a restaurant, swimming pool, hot steam room and massages, so you can treat yourself after a hard day on the greens. Reservations are required for weekends. www.karlstejn-golf.cz