It is possible to find almost everything you could want in the supermarkets of Prague, ranging from Japanese to Indian food and from Arabic through to local produce. You'll also be able to find the most popular European products, such as Heinz beans, Italian cured ham and Spanish chorizo sausage.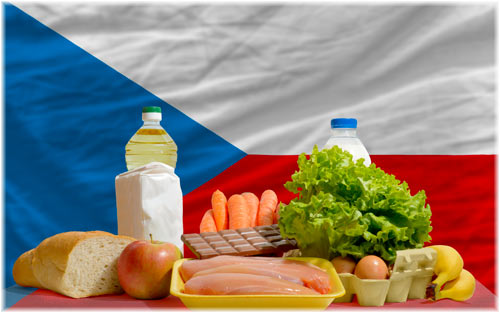 Potraviny are the smaller grocery stores you'll find around Prague, and these carry the staple foods you'll need, such as bread, potatoes, cabbage and root vegetables. The most popular smaller grocery stores are Žabka or Tesco Express, while the more popular larger ones are Billa, Tesco or Lidl. If you really want to find cheap food though, you should visit the local butchers (řeznictví), bakeries (pekárna) and wine bars (vinárna).
For food items that are more difficult to find, you should visit either Interspar, Tesco Extra, Kaufland or Globus, as they have loads of different foods on their shelves. The only problem for tourists is that these larger stores are usually on the outskirts of town, making them more difficult to get to.
Tesco supermarkets are probably the most convenient for food shopping. You'll find a couple of these located at Anděl Nový Smichov shopping mall and Slavia Eden shopping mall, as well as one in Národní Třída, which has a large selection of imported food. Albert supermarkets are also a good choice, and two of these can be found at the Palladium and Kotva shopping malls.
For those looking for food from their own country, the news is good. As more people from different countries settle in Prague, more and more specialist food shops spring up throughout the city. You'll find many Polish, Russian, Korean, Japanese and Italian stores in the city, and Brits looking for a taste of home usually head to one of the four Robertson International Delicatessens, which sell breakfast foods and other British staples. For something different, tourists can visit the area of Prague, almost akin to a Little Hanoi, which sells loads of Vietnamese produce, or perhaps to Japa, which has all the ingredients you'll need for Japanese food such as sushi. For halal food and falafel, pay a visit to Amis.
When you go shopping, you will need to make a 5-10 CZK deposit for the shopping trolley, although hand baskets are deposit-free. All supermarkets have facilities for bottle returns, and you'll receive 3-5 CZK for each bottle. Sometimes, you will have to pack your own shopping into bags, and cashiers will appreciate it if you pay them with the correct change.
The majority of stores will accept all major credit and debit cards, and some will even accept payment in Euros, although you will have to ask before you try to pay. Most are open until 9-10 pm, although some are open even later.
Organic Food
Health food stores sell everything from organic food to environmentally-friendly soap, and most supermarkets now also sell a wide selection of organic products. Organic products will have the word "bio" written on them, usually along with a green label.
If you are looking for organic meat, you'll find organic beef in most supermarkets, as well as occasionally organic pork and lamb. Organic chicken is not farmed in the Czech Republic, though, as production costs are too high, it is tough to find in Prague. You'll also find organic vegetables and fruits in most supermarkets and health food shops as well.
There are three main health food chains in Prague to visit if you are looking for organic food (and you can't find what you want in the supermarket. These are:
Albin. They offer a wide range of healthy foods, including sugar-free cakes.
Bio Market Vítek. They have a good general selection of organic produce, including organic wine and freshly ground coffee.
Country Life. They were the first health food chain in the Czech Republic, and their products are found in various other stores and their own stores.