Buying a good guidebook
is the best investment you can make, and if you want to enjoy your stay, you should definitely get one. Why? Because there are a lot of things you need to know, sure there are also a lot of things you necessary don't need to know, but they are like spice – they make your stay better and more fun. Don't believe me? That is fine. Imagine standing on the
Charles Bridge
. Nice bridge and the sculptures on the sides….nice…but after a while, you might wonder, are the sculptures original? When was this bridge constructed? Why is it still standing etc.? Are you curious to know the answers? OK, I will tell you the answers: the sculptures are not original (the originals are in the museum), the construction of the bridge started in 1357, and the bridge is still standing because they used to put eggs in the foundations of it. The best guidebook you can buy is probably one from Lonely Planet (17.99$ or £11.99). This guidebook is available in several languages. The Lonely Planet guidebook is very well done and includes a map section, so you don't need to buy extra maps.
Lonely Planet Prague Guide
I studied in Prague for the last four months, and I took this book with me everywhere. It is the only guidebook that has the hours that everything is open and how to get there. All of the information in it is highly reliable. I highly recommend it if you plan on spending more than a few weeks in Prague, although I supplemented it with the Eyewitness Guide to Prague and the Rough Guide to Prague. However, it offered little advice on which the best places to eat and stay and visit are. It also has very few pictures, which is unfortunate, because out of the thousands of beautiful places to visit in Prague, it is helpful to see which buildings appeal to oneself the most before choosing to visit them. If you plan to stay in Prague for longer than a week, this is an essential book to buy. However, for quick trips to Prague, I would suggest buying the Rough Guide to Prague (it offers good advice about where to go) and the Eyewitness Guide to Prague (it has tons of pictures). Also, if you plan on spending more than a few days in Prague, buy the Lonely Planet Guide to the Czech and Slovak Republic – there is so much more to the Czech Republic than Prague, and take a day trip or two outside of the city is time well spent.
Lonely Planet Prague City Guide is also now available in electronic PDF format from shop.lonelyplanet.com.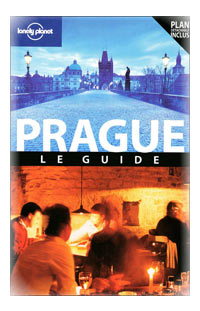 From Lonely Planet Publications:
'Lonely Planet guides are a must-pack.' – Toronto Star, The Lightness of Being in the capital of Bohemia, just got more Bearable, with Lonely Planets latest version of the Prague Cityguide on your iPhone. Prague really is worth the fuss: an impossibly picturesque city of fairy-tale castles, stately bridges and genuine Mitteleuropean bonhomie. Our dedicated community of authors and ever-alert contributors has happily turned this town inside out to discover the best eating, drinking, sleeping, shopping and sightseeing on offer. From the Old Town to the New Town and everything in-between, we have been there, given it our frank and independent assessment, and given you the lowdown. All Lonely Planet iPhone City Guide apps give you our tried and true guide information, enhanced with iPhone smartness, all in the palm of your hand. Please read up on the city, see the sights and things to do right around you, and look at our handy offline maps without worrying about data roaming fees. Finally, a guide you can carry along in your pocket! FEATURES: OFFLINE MAPS WITH NEIGHBOURHOODS (no data roaming) INTERACTIVE MAP FEATURES (may require data roaming in dense areas) HUNDREDS OF RECOMMENDED PLACES TO VISIT & THINGS TO DO EASY NAVIGATION TO FIND THE INFO QUICKLY YOU NEED EDITORIAL CITY GUIDE CONTENT FROM OUR AUTHORS PROFESSIONAL LONELY PLANET IMAGES If you're a jet setter, check out our 110+ (and counting) other city guides and travel phrasebooks! Collect them all!
Rough Guide to Prague
If you stay in Prague longer and wish to know more than just where to eat and what to see – this guide is perfect for you. In the guide, you will find Prague's history, politics and culture, plus a selection of detailed maps. Other interesting stuff is reviews of local hotels and restaurants. Definitely recommended for longer stays.
Berlitz 'Prague Pocket Guide'
Although Berlitz guide is not too detailed, it provides insight into Prague's landmarks and heritage sights. The guide also has plenty of colour photos, a travel tips section, pages covering restaurants, hotels, excursions and even tips on where to go with children. I would recommend this guide for families coming to Prague for a weekend break.
DK Prague Pocket Map and Guide
DK Guide provides essential information on topics such as currency, language, transport and tourist attractions. The guide is colour coordinated with the map. I would recommend this guidebook for anyone who doesn't care a lot about details and coming to Prague for a short time.
Time Out Guide 'Prague'
Time Out provides large listings for hotels, restaurants and entertainment. This guidebook seems less authoritative than Lonely Planet's guide, even though being slightly more expensive. I would recommend this guidebook to anyone who will come to Prague mainly for socializing and entertainment.
AAA Prague Guide

AAA Guide is a brief guide to Prague. Provides basic listings for sightseeing, hotels, restaurants and entertainment.
Best of Prague

The Best of Prague is a 144-page Prague city guidebook with the most relevant and actual information. This guidebook will find everything you need in a very readable and understandable form, including a map of Prague, a metro plan, and lots of good advice and information. This guidebook is distributed only in the Czech Republic.