The world-famous Hard Rock Cafe in Prague is located in the vicinity of the Old Town Square, housed in the historic Unesco-protected V.J. Rott Building.
The 1,900-square-metre cafe features three floors, a 330-seat restaurant, two vibrant bars and a Rock Shop featuring Hard Rock's limited-edition merchandise. Memorabilia from Hard Rock's iconic collection adorns the walls, complementing a 30-foot custom-made crystal guitar, which hangs suspended from the ceiling.
Hard Rock Prague features memorabilia, including items from many of the world's most beloved and recognisable musicians, such as AC/DC, Jimi Hendrix, Elvis Presley and many more. Additional key memorabilia items on display include Eric Clapton's blue velvet jacket, Joni Mitchell's leather belt, and Bob Dylan's acoustic guitar and handwritten setlist.
If you enjoy Hard Rock Cafe merchandise, then you must visit the Cafe's shop, which offers rock 'n' roll-inspired items, as well as favourite collectable Hard Rock Cafe Prague merchandise. This Prague-specific merchandise can only be purchased at this location, which offers an exclusive design quality that enhances each item's appeal. Fans can also acquire Hard Rock's much-coveted signature pins, including the new, limited-edition Prague pins, which reflect the spirit of the city and the authenticity of Hard Rock's merchandise.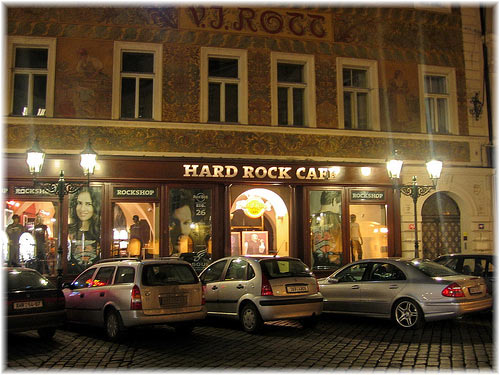 Address: Malé náměstí 3, 110 00 Prague