Attached to the Jewish town hall and housing the Jewish museum's collection of silver, Torah pointers and ceremonial crowns is the High Synagogue. So named for its' location on the second floor. The lower chamber houses a kosher restaurant. Mordecai Maisel founded the synagogue. The current building is a reconstruction and dates from 1892.
The name of the High Synagogue located in close vicinity of the Jewish Town Hall to which it pertained by its function is associated with the fact that the house of prayer was not placed on the ground floor but on the first floor of the building. Originally, it was accessible only from the first floor of the Town Hall and served for assemblies of the seniors of the ghetto and the religious community and perhaps also for the sessions of the rabbi court. It was not until the adaptations at the turn of the century that the entrance from the Town Hall was bricked, and then a new entrance was made from Cervena Lane. According to written testimony in the Chronicle by David Gans, the synagogue was contracted by the later head of the Jewish Town Mordecai Maisel to the architect Pancratius Roder.
The space of the High Synagogue has a Renaissance vault. The ground floor rooms have Renaissance vaults too. After the great fire in 1689, the synagogue was repaired in the early 1690s by the architect Pavel Ignac Bayer. Also, the women's gallery was constructed under his leadership. After another fire in 1754, only the burnt-out trusses of the roof were repaired. The tabernacle was adapted in 1691 in the spirit of the contemporary Baroque altar architecture. During the sanitary clearance period in the early 20th century, the synagogue was incorporated into a block of new buildings. The east front was covered. The whole synagogue was overtopped by the construction of the huge towery corner house in Panzska street designed by the architects Richard Klenka of Vlastimil and Frantisek Weyr, which is often considered by the general public to be a part of the High Synagogue. Hence, only the north front of the building over Cervena Street remained open. We can take a picture of the appearance of the High Synagogue, especially its east front, due to Langweil's model of Prague. Other adaptations of the synagogue took place in the 1960s and 1970s. Since 1950 the synagogue has been a part of the museum, and in 1982 a permanent exhibition of the synagogue textiles from the Jewish Museum collections was installed here.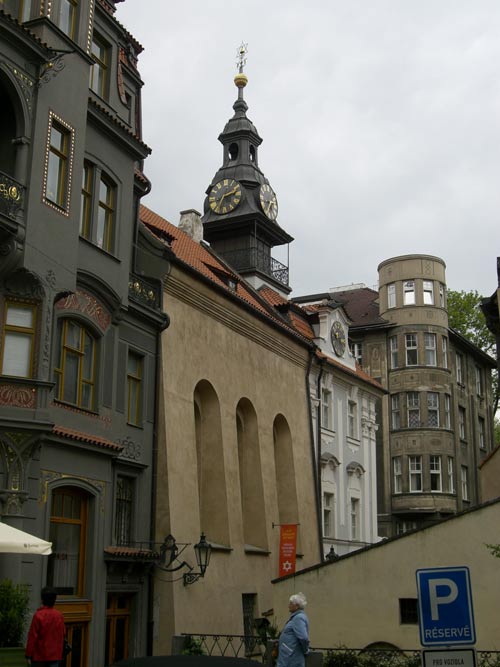 In Czech: Vysoká synagoga