More hotels than streets
There are about 300 named streets in the city centre (Prague 1) and more than 320 hotels. There are more and more hotels where you can stay at reasonable prices (many hotels have dropped their prices), ranging from 1000 CZK per person outside the city to 2,500 CZK close to the city centre. If you wish to stay in the centre, the most conveniently located hotels are in the Lesser Quarter, Old Town and Castle District (read accommodation best locations article). The western standards of two-star, three-star, four-star, and five-star also apply to Prague hotels – with a few differences. The majority of rooms have en suite bathrooms, TVs, phones and usually continental breakfast included in the price. Some budget hotels, especially those in Prague's suburbs, still offer shared facilities. Although smoking is banned in public places, hotels are not covered by this law, and most hotels have smoking and non-smoking rooms available. Top hotels usually charge 7,000 CZK or more per person per night. There are also quite a few serviced apartments or pensions fairly close to the city. They usually offer good value with special weekly rates starting at 1,000 CZK a day for a double room. The usual check-in time is midday or 13.00 and check out time 11.00 or midday. Hotels in the Czech Republic, including Prague, have a capacity total of more than 70,000 beds.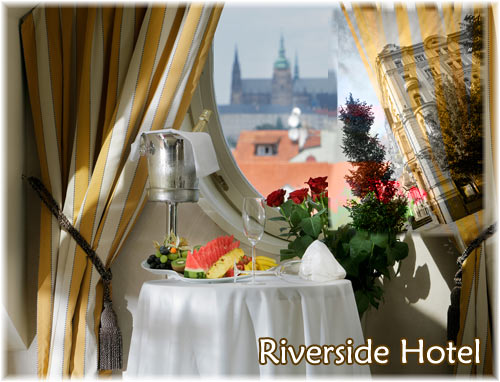 Five-star hotels
Internationally, the five-star ranking refers to hotels with all the bells and whistles like parking, a pool, gym, salon etc. But some of the grandest and historical hotels in Prague, though they have the five-star label, are located in historically protected buildings, limiting the number of renovations allowed on the premises. The rooms are likely to be quite spacious and, of course, luxurious, but you might not find some of the more modern amenities you would expect from five-star lodging.
Four-star hotels
Four-star hotels usually offer the same amenities as five-star hotels; they're just a little less glamorous. Rooms should all have mini-bars, cable television, complimentary toiletries, hairdryers, and alarm clocks, internet connection etc. Most of them feature air-conditioning, bathtubs, bathrobes, and slippers – if these items are must-haves, it's best to ask about them before you book. A four-star hotel should also have an elevator, but in Prague, these can be far too minuscule to accommodate a wheelchair, and you'll have to climb a few steps before you reach the lift.
Three-star and two-star hotels
Three-star and two-star hotels are very similar when it comes to amenities. It's safe to say that an unimpressive facade and older furniture characterize most three-star facilities; two-star facilities may be similar to that of a pension or better guesthouse. Three-stars may house a restaurant or bar; two-stars may only have snacks and drinks available at the front desk. Prague is home to plenty of lovely two- and three-star hotels that can provide a satisfactory stay and prove good value for the money.
Best Rated Hotels
According to Tripadvisor best-rated hotels in Prague (also amongst 10 in Europe) are Golden Well Hotel, Hotel Le Palais and Riverside Hotel.
Booking.com – (discounted hotels, instant confirmation, pay upon arrival)