Prague Castle's 'front yard' is an attraction in its own right. There are many architecturally interesting buildings in the Hradcany Square district to see, including Salmov Palace, Schwarzenberg Palace, Carmelite Monastery, Hradcany Town Hall, Tuscany Palace, Martinic Palace, Sternberg Palace and Archbishop's Palace. The square's small park is punctured by Ferdinand Brokoff's plague column, marking the end of the Black Death in 1679.
Location: Hradcanske namesti, Hradcany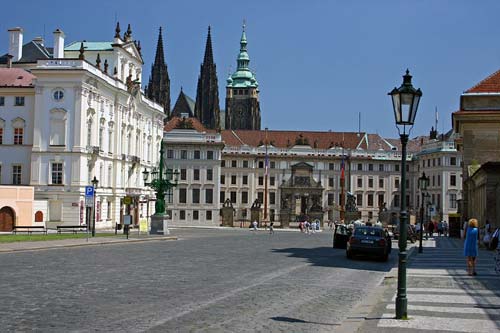 Salmov Palace (Salmovsky palac)
The prolific structural development of Salmov Palace began in the early Middle Ages, and it attained its present-day appearance following reconstruction in 1800-1811 based on Franz Pawitschek's designs. In front of it, in 2000, Former President Vaclav Havel unveiled a bronze statue of Tomas Garrigue Masaryk, the first president of Czechoslovakia, cast by Otakar Spaniel in 1937.
Marian Plague Column (Mariansky morovy sloup)
When the bubonic plague raged through Prague from 1713-1714, a mass prayer for its dispersion took place in Hradcany Square. In 1724-1736, a Marian Plague Column was erected in the spot where the altar stood. The author of its architectonic composition is unknown. Still, Johann Ulrich Mannes did the stonework, and Frantisek Maxmilian Brokoff created the statues in 1724-1731, with Franz Ignaz Weiss contributing his sculptures in 1731-1736.
Carmelite monastery
The early Baroque Carmelite monastery was the result of a reconstruction of Renaissance buildings from 1654-1660. Carl Lurago is likely to have overseen this project, which was first carried out for an order of Barnabites. After its dissolution, the Carmelites received the monastery in 1791. The monastic Church of St. Benedict was originally a Gothic Hradcany parish church from the beginning of the 14th century. After radical Renaissance reconstruction, it was renovated in the Baroque style in the 17th and 18th centuries.
Hradcany Town Hall (Hradcanska radnice)
The town hall of the serf town of Hradcany was in an attractive location on the square, pressed close against the fortifications. It was built at the turn of the 16th and 17th centuries as a typical Renaissance burgher's home with rustic sgraffito.
Tuscany Palace (Toskansky palac)
According to Jean Batiste Mathey's design, Giacomo Antonio Canavalle built the Tuscany Palace for Michael Osvald Thun in 1689-1691. The palace received its name from its next owner, the Grand Duke of Tuscany. After being confiscated, the palace came into the hands of the Ministry of Foreign Affairs. It last underwent reconstruction work from 1994 to 1998.
Other Palaces
Sternberg Palace (Sternbersky palac)
Archbishop's Palace (Arcibiskupsky palac)